REVIEWS



"

So, here is a version of the report, in two parts, just like Mueller's, and in the form of comic-book panels that present direct quotation from the report, as well as copies of emails, tweets, and official documents. There are also talk (and thought) bubbles that mimic exchanges between the major players whom Slate captures with minimal strokes and subdued expressions. A "cast of characters," alphabetically arranged, is helpfully included at the end.
Read the complete review by Joan Baum in The Independent
"
... distressing, disturbing, and occasionally infuriating.

"A well-crafted visual depiction of the troubling contents of the Mueller Report."
Read the complete review in Kirkus Reviews
A surprisingly good-natured but thorough adaptation of what may turn out to be the most astounding story of American corruption in plain sight ever told."

"This is a comic that needed to be done now rather than later."

"Slate has provided something that is half-public service, half-wild ride, both crucial and rollicking."
Read the review by John Seven in Comics Beat
"Why Artist Barbara Slate Made A Graphic Novel Edition Of The Mueller Report"
Read the article by Rachel Kramer Bussel in Forbes
Listen to Barabara Slate interviewed on the
Mueller She Wrote
podcast. Scroll down the podcast list to: "Dick Mole Guilt (Feat. Interview with Barbara Slate)" Your browser's "find" function can help--search the podcast list for Slate. See the screenshot below. Move your cursor on the squiggly line until you see 1:26:10 (or close to that), if you just want to start listening where Barbara's 13 minute segment begins.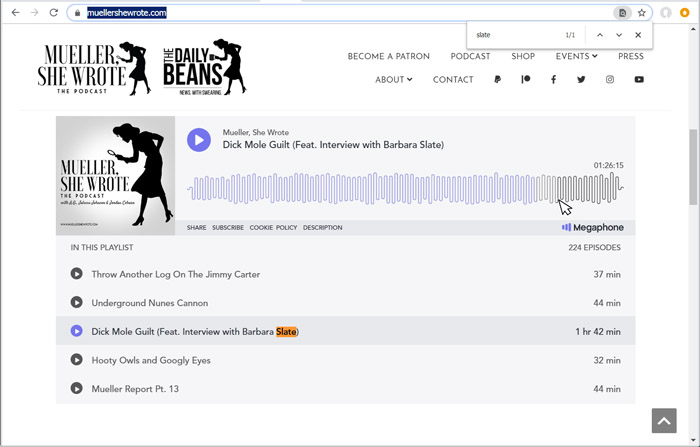 Watch Mr. Media's interview of Barbara Slate, or listen to the podcast: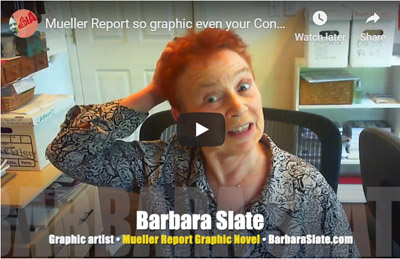 "I thought this was very well done - it took the heavy legalese of the Mueller Report (a legal document - NOT a partisan document) and synthesized into a comprehensible and visually pleasurable format. I hope if a 2nd edition comes out they cite the sections where the text comes from. Without the citations, you will continue to get some reviewers who clearly did NOT read the Mueller Report claiming it is biased. Well done! I'm looking forward to the upcoming volumes. More Americans need to be aware of how intensely the Russians tried and are continually trying to interfere with our political system."
Tamara Fultz, Museum Librarian, Verified Purchase review on Amazon Kindle Edition

"Absolutely brilliant." "Fantastic work." "Love this!" "Genius!!!!" "This is amazing."
Comments on Twitter, check them out!
More reviews coming soon!