Pre-Publication Discount Subscriptions are Now Available for
Catalin Valentin's Lamb
photographs and journal entries
by
Rosalind Fox Solomon

Foreword by Richard Minsky

[Ready to order? Scroll down or click
here
]
Traveling the Peruvian Andes, Fox Solomon jumped off the back of a pickup truck to photograph a landscape and found a woman nursing a lamb..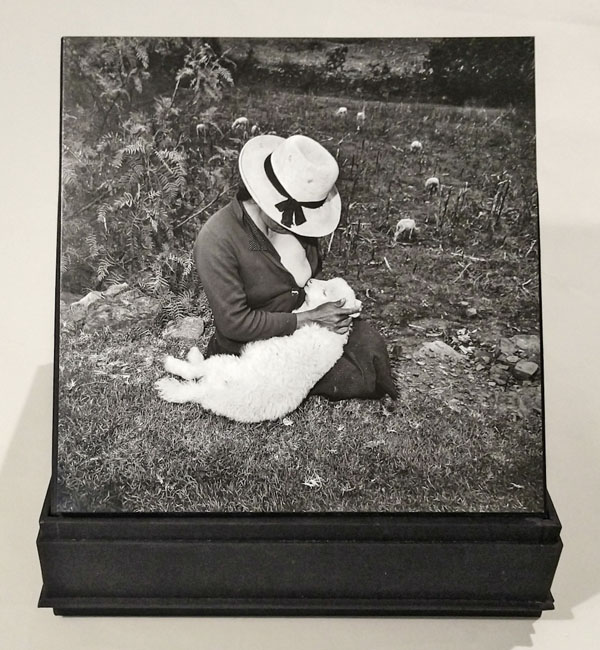 The book comes in a patented pop-up display box. The cover photo, Catalin Valentin's Lamb,
is printed in the Fox Solomon studio and lacquered at the Minsky Studio.
This artist book is about the photo.
There are two journal entries, with related photos of people and a landscape.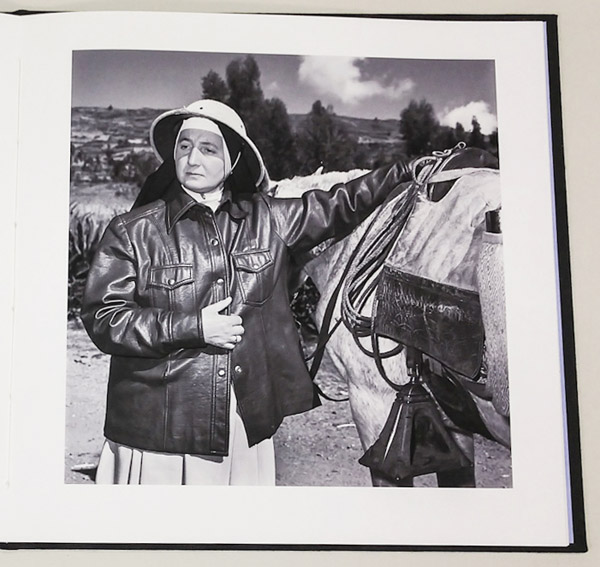 Madre Rosa Cedro.
Photo by Rosalind Fox Solomon.
Printed in the Minsky studio by high resolution archival pigment inkjet.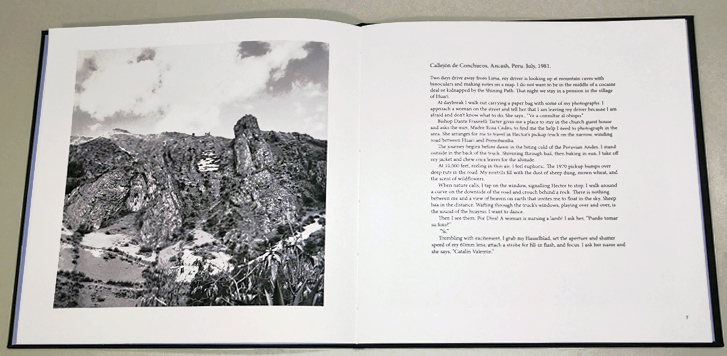 Callejón de Conchucos, Ancash, Peru. July, 1981
Photo by Rosalind Fox Solomon.
Printed in the Minsky studio by high resolution archival pigment inkjet.
This is a new format for an artist book that has never been used for an edition.
It is a portable archival installation, exhibition, and storage system.
Side view: the box top folds under the easel and raises it for easy removal of the book.
An adjustable strut in the box enables the book to be displayed at different angles.
The photo raised controversial responses when it was featured on the Back Page of the Utne Reader in July of 1988. In the following issue the photo was again printed, with readers' responses ranging from "Repulsed" to "A picture of compassion." It was printed again in their Tenth Anniversary Issue.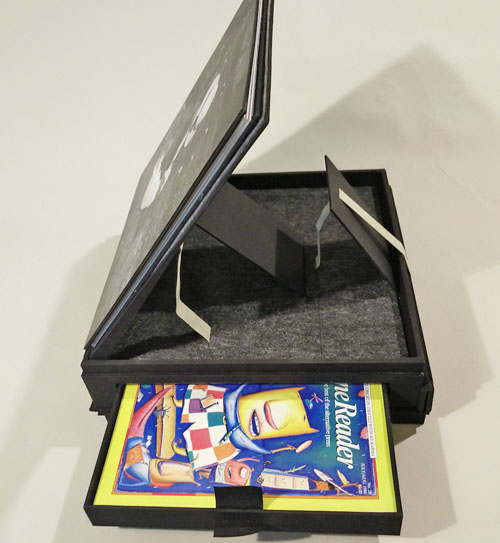 A drawer in the side of the box contains three issues of the Utne Reader,
July/Aug 1988, Sept/Oct 1988, March/April 1994.
Pop-up display Patent No. 11,166,552.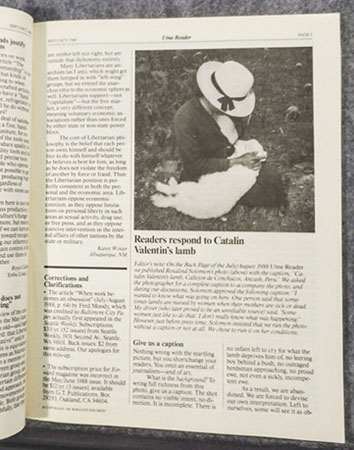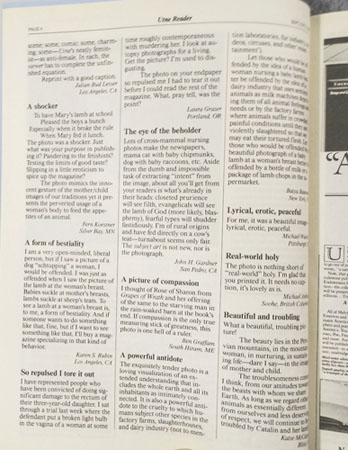 "Readers respond to Catalin Valentin's Lamb". Utne Reader, September/October 1988.
Three short videos on how the pop-up display works, total run time under two minutes.
If it doesn't play in your browser you can
watch it on YouTube
.
Pop-up display Patent No. 11,166,552.
Questions? click to CONTACT Richard Minsky.
Limited Edition in 12" X 12" format, includes four photos taken by Fox Solomon during her expedition to Callejón de Conchucos, Ancash, Peru in July, 1981 and one taken of Catalin Valentin when she returned there in August, 1995. There are two one-page excerpts from her journal about those trips. Edition of 15 signed and numbered copies printed by high resolution archival pigment inkjet in the Minsky Studio. Cover photo printed in the Rosalind Fox Solomon studio, lacquered in the Minsky studio. Pop-up display by Minsky, Patent No. 11,166,552.
Publication date: November 10, 2022
Publication Price: $15,000.00

Pre-publication discount price through August 31, 2022 for prepaid orders: $8,500.00
Pre-publication price will increase September 1.
Catalin Valentin's Lamb
Pre-publication discount subscription

$8,500.00
If you wish to pay by check, please use the
order form
below.
Questions? click to CONTACT Richard Minsky.
click the View Cart button below to view your order or to continue checkout
International Orders:
The only method of international shipping available through the online ordering system is Priority Mail International, which provides tracking and signature confirmation. If you have your own shipping account or other preferred carrier, use the form below and specify the shipping instructions in the Comments area. You can also pay by credit card with that option, and an electronic invoice will be sent to you.
To pay by check or institutional purchase order, or for special requests:
To pay by mail with a check or submit an institutional purchase order, please reserve your books or CD's online with the order form below, or by phone. If you prefer to use a credit or debit card, you can pay online using the secure ordering system by clicking on "add to cart" above for the items you choose. Please read the Terms.
You do not need to be a PayPal member to use the shopping cart. It accepts VISA, AMEX, MC and Discover cards, and is a secure merchant service operated by PayPal. If you are a PayPal member, it will also accept a transfer from your PayPal account.
To provide shipping information that includes charging it to your own account, please use the "comments" section of the form below and specify the carrier (UPS, FedEx, DHL) and account number.
If you have any questions, or wish to order by phone, please call (516) 729-9227, or use the contact form.

When filling out this form please check your entries for accuracy, particularly your e-mail address. Additional contact information should be entered in the message box..
Please note: Reservations will be held at the current price for ten days from your confirmation e-mail (Invoice) date pending receipt of payment from individuals. Approved institutions: subscriptions are held at the current price for 30 days pending receipt of payment.
Terms:

1. All items must be prepaid on new accounts. Institutions (libraries, accredited schools, museums) may use purchase orders subject to terms. Please inquire.
2. The form above or telephone may be used to reserve your order pending timely receipt of your remittance.
3. New York residents must include applicable sales tax. Dealers and Exempt Organizations must include properly completed resale or EO certificate.
4. Shipping and handling will be added to orders not picked up in the gallery.
5. You are welcome to visit the Gallery by appointment in Hudson, NY.