ArtWorld Tours of the Second Life Art World Now Playing

Parallel Worlds: Explorations in "Second Life"

The Aperture Foundation sponsored a panel discussion on art in SL at The New School in New York City on February 13th, 2008.

The panelists were Fred Ritchin, NYU professor and a contributing editor of Aperture; Michael Van Horn, curator of the Joseph Monsen Collection in Seattle; Richard Minsky, founder of

The ArtWorld Market Report; and Michael Schmelling, photographer.

Click here to view the online video of all the presentations.
Tip: click "play clip" and you can navigate the video with the little button on the slide bar.

And from 2007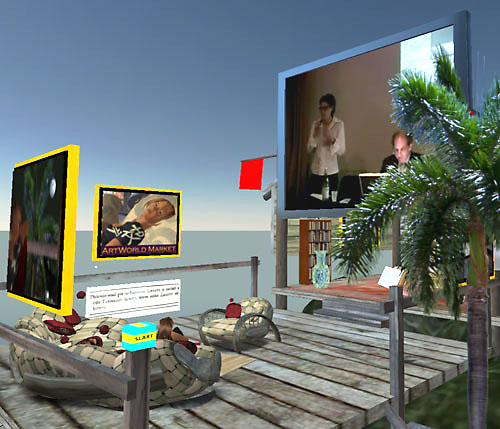 An Event that took place on Wednesday May 16, 2007—a tour of the art world of Second Life, projected on screen in New York City, Live at Location One— is now playing as a video in Second Life. The ArtWorld Report's managing editor ArtWorld Market's Real Life avatar spoke to RL collectors, curators, scholars, critics and dealers, who saw why this new medium has attracted so many artists. You can see the video right now at ArtWorld's Artropolis hut. Make sure your "Movies" button is on at the bottom of the SL viewer to watch the show on the FreeView screen.
It is also playing at DanCoyote Antonelli's Film Library, which is itself a site worth visiting—a parcel based multiplex theater. It's high up, so wear your antigrav—it's above unaided flying level.