A dozen artists gathered in Artropolis on January 16, 2007 for a night of percussion music. The instruments were supplied mostly by Grimfiddle Dogpatch. Before the evening ended the players were dancing on the drums.
Artropolis Opens
[February 10, 2007]
Artists Build Sim for Studios, Galleries, Performance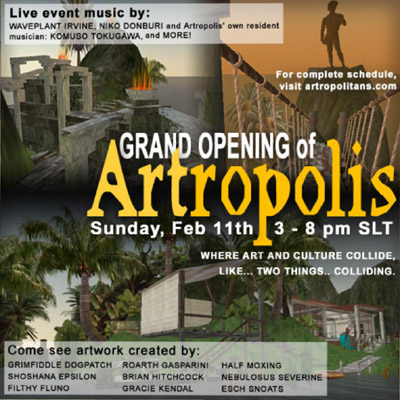 Esch Snoats, formerly resident in 3000 AD, was the lead builder of a new artists's colony in Second Life. Organized by Filthy Fluno and named Artropolis, it is preparing to host exhibitions, concerts, theatrical events and parties. The island is owned by developer Maxim Deharo.
The artists were reacting to commercialization and other issues in sims they previously inhabited. In Artropolis they feel there is more freedom and opportunity. The administration of this island supports features like live streaming audio under the artist's control.
Filthy, Esch, and several other resident artists came from 3000 AD, which was the leading fine art sim in Second Life. We visited 3000 AD this week and it looks like a ghost town, with deserted streets. The rent boxes have been locked, and as the leases expire the galleries are being closed. 3000 AD is owned by Heaven's Gate, which also owns the popular club ELEMENTS. According to Mephetique Demar, a Heaven's Gate owner, the 3000 AD sim will be redeveloped into a different type of venue.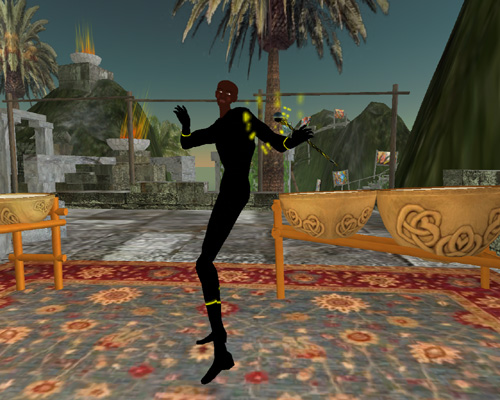 Dancoyote Antonelli dancing at Artropolis on February 10, 2007