[Archived from mid 2008]
Lunar Drawing Contest at SJICA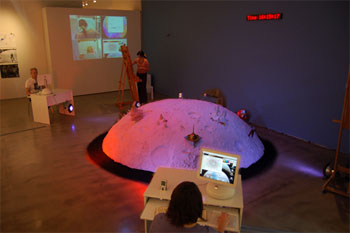 West Coast artists now have an opportunity to win land on the moon. The San Jose Institute of Contemporary Art is hosting the exhibition Crater Bay Area (May 30-August 2, 2008), the installation of the Lunar Drawing Contest that was held in New York City at Location One, where Filthy Fluno won a deed to Lunar land.
You get a half hour to sketch a 10-foot model of the moon, in traditional or digital media, and your drawing will hang in the museum for the duration of the exhibition.
If you would like to participate in this project, click here for an entry form.
This is a real life event that is being simulcast at Artropolis in the Second Life® world.
Winners of the Artropolis Crater Bay Area moon-themed art contest were announced at a ceremony July 20, which also featured an exceptional performance by Cylindrian Rutabaga singing moon-themed songs.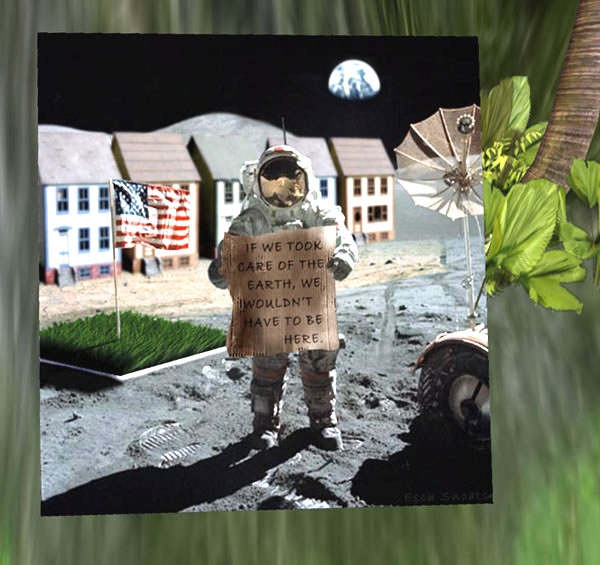 First prize winner: Atro Moon by Esch Snoats
The first prize was awarded to Esch Snoats for Atro Moon, a 2-D digital artwork of an astronaut on the moon holding a placard with an environmental message. The second prize went to Elros Tuominen for Moon Tree 03, a scripted tree that waxed and waned. The third prize was awarded to Kolor Fall for Object, a black and white rotating moon above the center of the lake.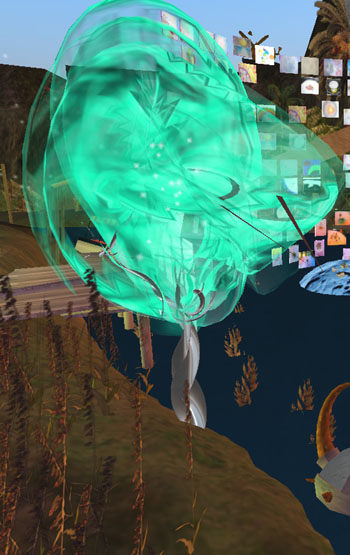 Second prize Elros Tuominen's Moon Tree 03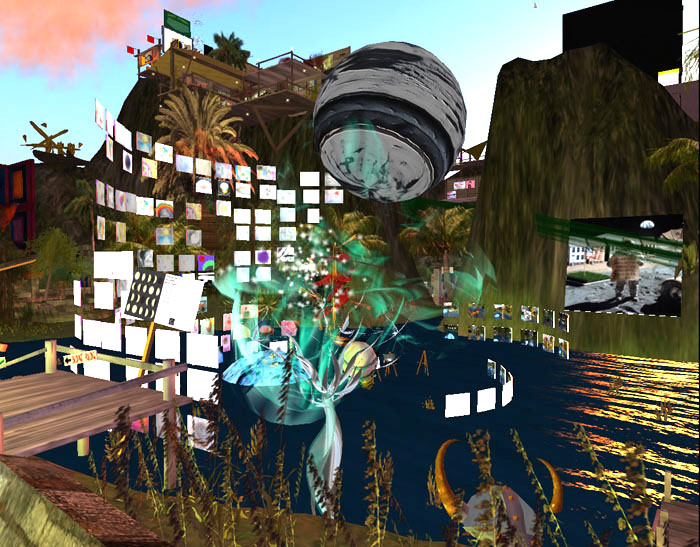 Third prize winner Kolor Fall's Object, a black and white rotating moon above the center of the lake.
Elros Tuominen's Moon Tree 03 is in the foreground in a waning state, and Esch Snoats' Atro Moon is to the right.
San Jose Award Ceremony: Friday August 1, 7 pm