Also read: Kiss the Sky
An exhibition organized by
Rezzable Productions and the NPIRL Group
May-June 2008
The Garden of NPIRL Delights
by ArtWorld Market
RightasRain Rimbaud and Bettina Tizzy have combined their entrepreneurial and curatorial experience to create a four-sim extravaganza of art that is Not Possible In Real Life.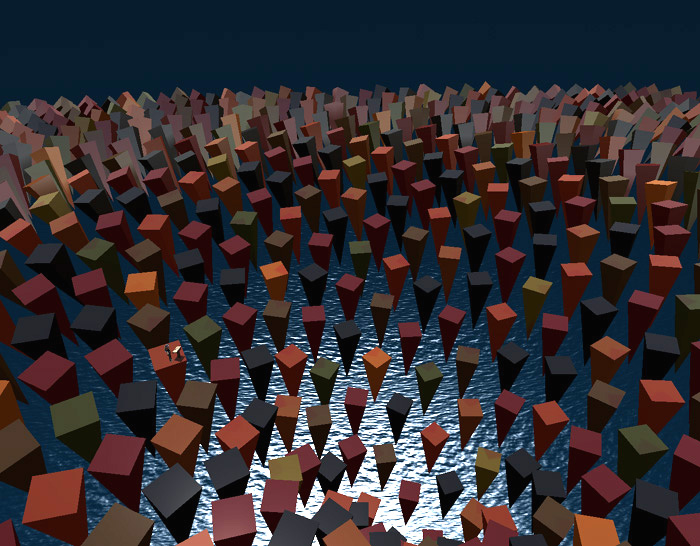 Above: The Sky is Falling by Seifert Surface, If you arrive using the tour HUD, you will land where the avatar is in this picture.
Here clouds and terrain are turned off and draw distance is about 350 meters.
Playing with the viewer options and lighting make a huge difference in exploring all the works in this exhibition.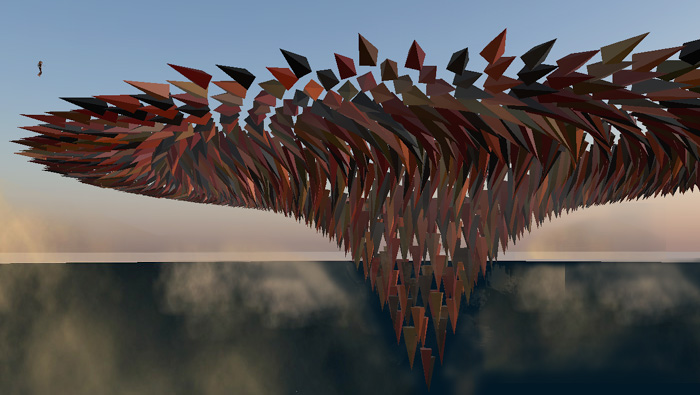 The Sky is Falling by Seifert Surface, seen at sunset. Fly to some distance, like the avatar above (to the left of the work),
or use your camera to zoom out, to see the the form of this sculpture.
If you would like to see the work of 110 creators who are building works in the Second Life® world that are Not Possible In Real Life, this exhibition will give you way more than you can see in one visit. When you arrive at the entrance I would strongly recommend that you click the flower-shaped object that dispenses the free tour HUD. It will keep track of where you have been and insure that you see all the exhibits, even if you leave, shut down your computer, and come back at another time. If you plan to revisit any of the works, create a landmark for yourself (click "World" at the top of the user interface), as the tour is sequential.

Some of the works ask you to behave in a specific way or adjust your options to a particular setting to experience it properly. This is essential.

The first stop on the tour was a mammoth display by Seifert Surface titled The Sky is Falling. This 1500 prim sculpture hovers 200 meters above ground level. The parts are arranged by a script, and the effect is stunning

.

When you go to the maze created by Tezcatlipoca Bisiani and are told "find the center, do not fly" there is a reason, as you will discover. If you fly through this work you will miss the surprise. Many works are interactive with your presence or require touching or teleporting within the work.
Aloah Oh tells you to adjust your settings to 8192 particles. When you do, you will see the full effect of the artist's volcano, fountains of color, and other particle works: