MORRIS VIG ANNOUNCES THE CLOSING OF OYSTER BAY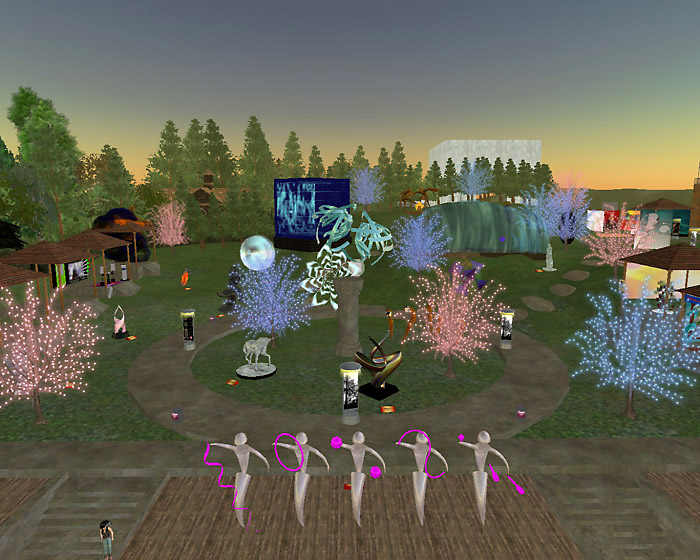 Above: A view of the Oyster Bay Sculpture Park on February 17, 2008
One of Second Life's Best Art Venues is Closing
Morris Vig has announced the closing of the Oyster Bay Sculpture/Market/Aquarium [Oyster (20, 176, 82)]. It has exhibited works by many of SL's finest artists, and presented events and lectures of artistic significance, including the demonstration and talk by Sasun Steinbeck on March 20, 2007.
The closing announcement, made February 17, 2008, indicated that closing would take place over the next few days, to give artists time to retrieve their works. Closing of the Oyster Bay groups began immediately after the announcement.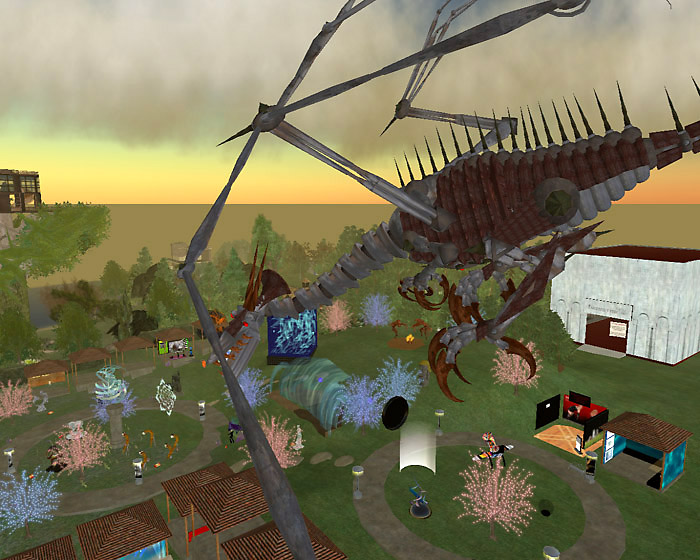 Above: A sculpture by Madcow Cosmos flies over Oyster Bay Sculpture Park on February 17, 2008
Below is the text of Morris Vig's notecard
February 17, 2008
Dear Friends of Oyster Bay:
It is with no small degree of sadness that I am announcing the forthcoming closing of Oyster Bay Sculpture Garden and Aquarium.
For those of you who know me well, you know that the time since I took my latest RL job in mid-August 2007 has been extremely frustrating for my Second Life. This situation has been exacerbated further by a transfer that took place in January 2008.
I do not have the time to do what I want in Second Life. I see wondrous new creations from fresh names, and I recoil from approaching them because I don't have time to treat them like I want. I have a wonderful performance space but don't have the capacity to do anything with it. The legendarily-dynamic sculpture space ("There's always something new at Oyster Bay" has been a mantra here...) is largely static because I haven't been able to give it the attention it deserves.
Long story made short - I have a deep sense of obigation to you, the Oyster Bay community. I've been skating by for months now. That's not fair to you, and it's tearing me up. It's time to end the frustration and move on.
Thus, I'm going to close Oyster Bay over the next few days. As part of that, I'll realign the Oyster Bay groups, so please don't be surprised to see an "ejection" (such an ugly term). I don't have an exact timetable, so bear with me as I work through the shutdown.
I won't be leaving Second Life. I will keep my property and perhaps build that mansion that I always thought would be cool. (Odds are there will be a lot of art on the Oyster Bay grounds, too. Just personal collection pieces, though.) I'm also keeping the Second Arts blog (http://secondarts.wordpress.com) and will report what I see out in SL...especially in its vibrant arts community. I also plan to do a little more creating of my own; I've taken to playing with WindLight-generated SL photography and can twist a prim or two as well. And I'll be around.
You have honored me with your support and involvement in the Oyster Bay community. It is because of ALL OF YOU that Oyster Bay achieved the notoriety that it enjoys. Reflecting back, I take solace in the fact that we honed a model for successfully running a PG-based arts community that paid for itself for nearly a year. That's right, folks. I have a 1/2 sim devoted to Oyster Bay and haven't paid tier in nearly 12 months. That's because of all of you.
Beyond that, friends like Cyanide Seelowe, Petronilla Paperdoll, Isolde Flamand and Tayzia Abbatoir helped institutionalize things like ArtTalks, gallery concerts, the Balloon Festival, outrageously huge shows like "Hidden Starax!," "14 Days, 14 Sculptures," and the "Black Tie and Blues" machinima premiere.
Second Life is a wondrous place where creative minds can literally take any idea and give it shape and form. This is a magic moment in the dawn of the 3D internet, and I'm so glad to be able to share it with you.
Thank you, all of you, for a wonderful time as we built a community that celebrated this spirit. Don't stop building, don't stop scripting, don't stop texturing....and don't stop supporting the people who do it, too.
Be good.
Morris Vig