Review
{December, 2008}
Victor Vezina and Juanita Deharo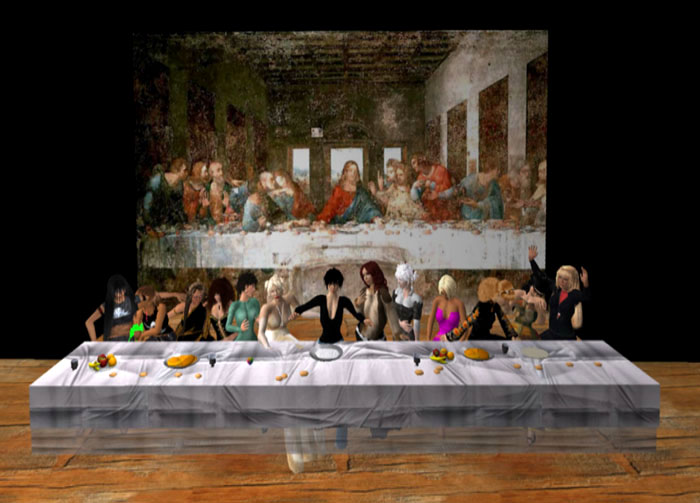 The Last Supper by Victor Vezina and Juanita Deharo
The Last Supper
and other works at
SL Art Gallery
Performance art, appropriation, trompe l'oeil, scripted poses and photography are combined in the newest referential work from Victor Vezina and Juanita Deharo at the recently renamed SL Art Gallery in the Second Life® virtual world.

Several versions of The Last Supper are installed in the exhibition, with 13 female avatars playing the roles of the characters in DaVinci's famous painting, clothed in one version, nude in another.


The Last Supper by Victor Vezina and Juanita Deharo


This is a substantially more ambitions work than the earlier Dejeuner sur l'Herbe, a similar concept based on Edouard Manet's 1863 masterpiece. This work also exists in several versions:


Dejeuner sur l'Herbe by Victor Vezina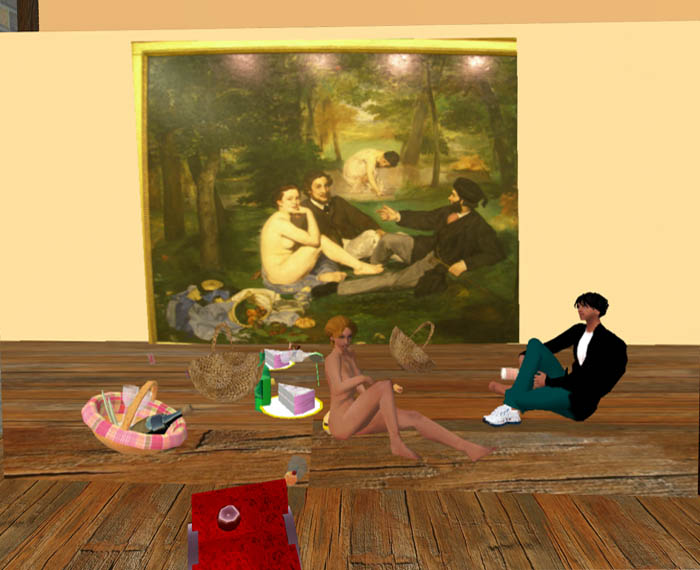 Dejeuner sur l'Herbe (2) by Victor Vezina
There are many other works at SL Art Gallery by Vezina, including poetry about Second Life, images created in real world media on SL subject matter, and sculpture.

Poetry and Humor
When you visit the gallery be sure to continue to the second floor and the roof garden. Some works are like pages from a livre d'artiste:


Second Love by Victor Vezina


View of the roof garden poetry field. The sign cube inflates and deflates, falling in different directions.

The juxtaposition of reality and virtuality is a theme running through much of Vezina's work. Perhaps it's a form of Surrealism. Below we see avatars on a beach in Liverpool:


Avatars on the Antony Gormley beach at Crosby, Liverpool by Victor Vezina


Wineos by Victor Vezina, subtitled Avs painted in Cote du Rhone

Not exactly watercolor, the artist painted the avatar portraits above with red wine.