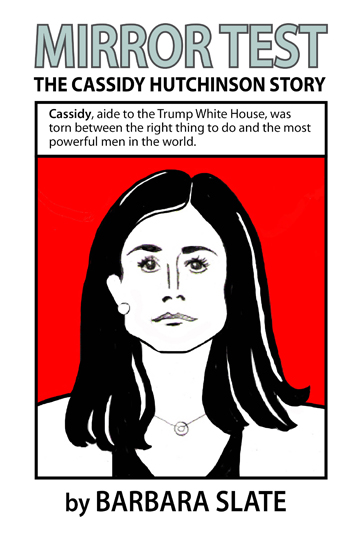 Paperback ISBN: 978-0-937258-14-9
PRICE: $9.95
SIZE: 6.625" x 10.250"
EXTENT: 44 pages
Order direct, or get a signed copy
MIRROR TEST
THE CASSIDY HUTCHINSON STORY
a comic book by
Barbara Slate
Marvel and DC comics creator Barbara Slate makes the Cassidy Hutchinson story fast-paced, easy to read, and entertaining. She selects crucial text from the transcripts issued by the January 6th Committee in September, 2022 and weaves a visual story of deception, intrigue, and patriotism.
Mirror Test is a riveting visual story that stays true to the facts.

Special Prosecutor Jack Smith charged former President Donald J. Trump with four criminal counts of attempts to interfere with the peaceful transfer of power after the 2020 election. The former president is claiming that the prosecution is a "witch hunt" and enlisted the aid of members of Congress to discredit the FBI and the Justice Department.

Cassidy's testimony broke the "I can't recall" code of silence. In Mirror Test Ms. Slate illustrates how Ms. Hutchinson came to the decision to reveal details of the president's role in the attack on the Capitol.


In a speech the day after Cassidy testified, Liz Cheney said:
"Ms. Hutchinson's bravery and patriotism yesterday were awesome to behold. Little girls all across this great nation are seeing what it really means to love this country, and what it really means to be a patriot."


Ready to order? Click here.

"Barbara Slate, graphic novelist, cartoonist, DC Comics legend, teacher and author ("You Can Do a Graphic Novel"), could not be more in the present than she is with her newest foray, a slim paperback called "Mirror Test: The Cassidy Hutchinson Story"...
...clever, witty and relevant, makes an important contribution to the genre of political art...
...Comics, with their origin as political commentary, have slyer subtexts. Clearly, Slate - a rarity in the world of cartoon illustration - wants to educate women to speak up and speak out. That's a tough order in a town like Washington D.C., overwhelmed with female second- and third-degree players, with most positions of real power in the hands of men.
...One of the hopes of political cartoonists is not only to savage the opposition and send up hypocrisy, but to encourage believers in The Right Thing to keep believing and to act on their beliefs. Graphic artists like Barbara Slate are particularly effective in this effort because their art is not just a one-panel shot like a magazine cartoon, but a narrative. There's a story to engage the viewer with text as well as visuals. An inference is that perhaps we will want to know more and seek out more information. In this sense graphic novels can serve as prompts to further, deeper reading - the very opposite of social media quickie news bites."
--Joan Baum, The Southampton Press,
Free shipping within USA on orders over $30.00.
Order direct for $9.95.

MIRROR TEST
The Cassidy Hutchinson Story



$9.95

SIGNED COPIES are available for $12.00!

MIRROR TEST
The Cassidy Hutchinson Story
SIGNED by Barbara Slate


$12.00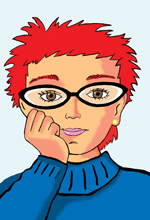 Comic book legend Barbara Slate created Angel Love for DC, Yuppies from Hell and Sweet XVI for Marvel. Also for Marvel, she wrote Disney's Beauty and the Beast, Pocahontas, and more than 60 Barbie comics. She wrote many Betty and Veronica stories for Archie Comics. In 2019 she created The Mueller Report Graphic Novel. Barbara teaches at Montclair State University using her acclaimed textbook You Can Do a Graphic Novel.
Visit barbaraslate.com