NOTES
by Richard Minsky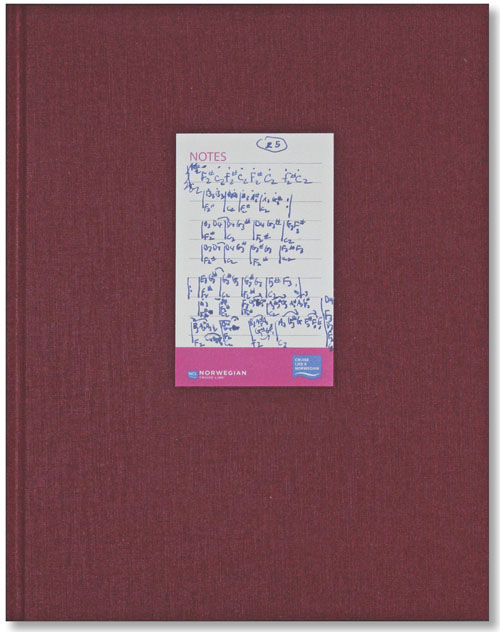 Above: the Limited Edition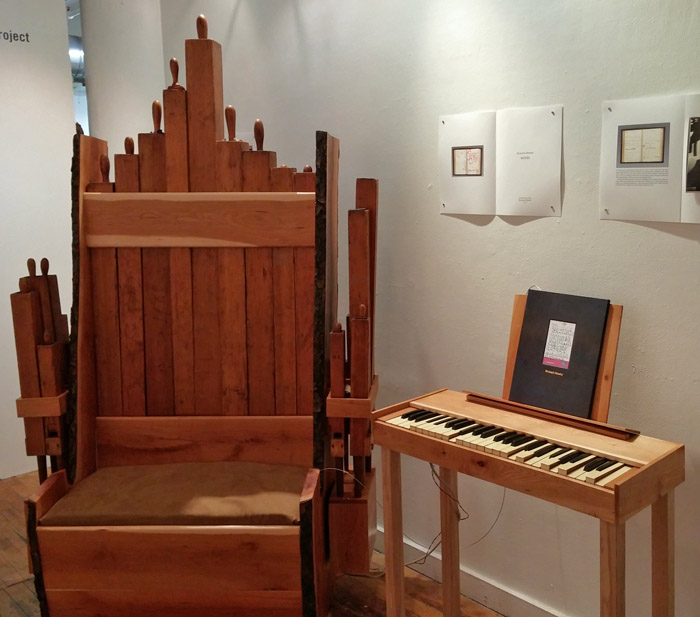 Installation of Notes at the Center for Book Arts, New York, October 10 — December 20, 2014
A book with some new compositions created for 23 notes,
several earlier musical works and archive materials.
Scroll down or click here for the order form.
Click to See Sample pages from Notes (3 MB PDF)
click to see videos of Minsky reading from NOTES at the Center for Book Arts, Nov. 14 2014

Love the NOTES project. Also, the rendition of I Want to be Riveted video on your website is so good. It's a lot of noise but it is amazing to watch and hear and very inspiring. You look like a wild animal—in the best possible sense. Wild in voice, in group, in tone—the whole thing is amazing. I would have loved to have been there.


Chris Lura

Editor,

Paul Revere's Horse
In the early 1970s I bound a small leather blank book of handmade paper.Titled Musical Theory, for a couple of decades it was used for jotting down riffs, lyrics, and thoughts. In 2012 this book was acquired by the Special Collections department of Yale Uniiversity's Robert B. Haas Family Arts Library. It was included in their exhibition, Jazz and the Book Arts, February 24 — June 16, 2014.
The edition of Notes includes reproductions of pages from the Musical Theory manuscript, original archived material from the 1970s and 1980s, sheet music, photos of the construction of the musical chair, and a CD.

Available are 15 copies bound in cloth, 5 copies in leather, and a unique copy bound to a musical chair.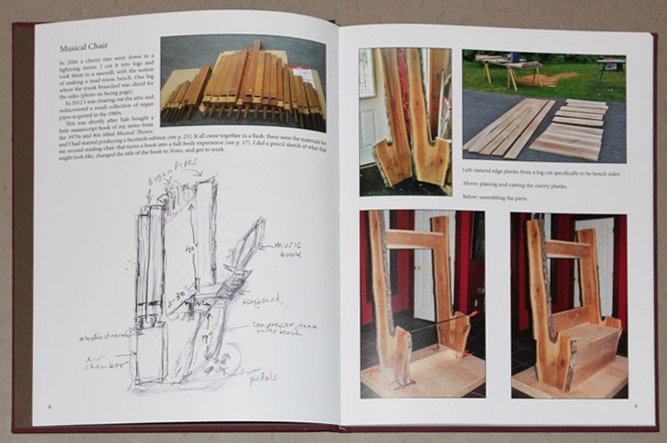 The binding opens flat throughout the book.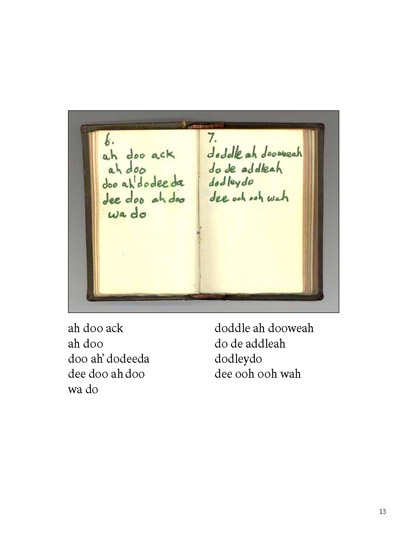 Above: a page from the section "Phoneme Riffs."
NOTES includes the score for Adventures in Ku-Ta-Ba Wa-Do (1972)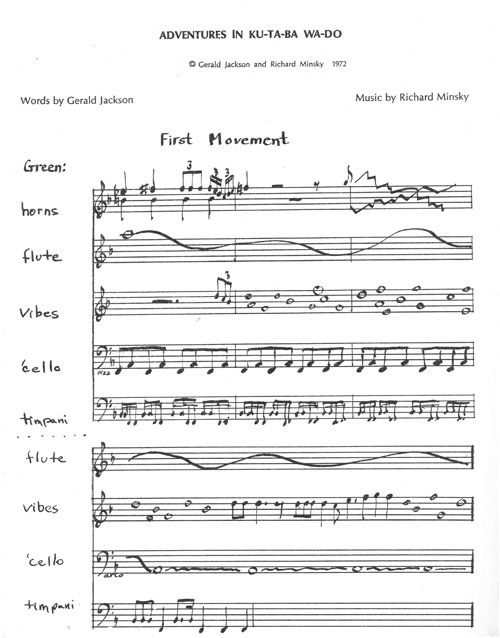 Each copy includes one original color field linoleum block print from the series made for the original edition of Adventures in Ku-Ta-Ba Wa-Do in 1972. For the recording session at Mercury Studios, the 12 musicians had a set of prints on their music stands with the score. Below is an example of one print; the one in each copy of NOTES will be be different.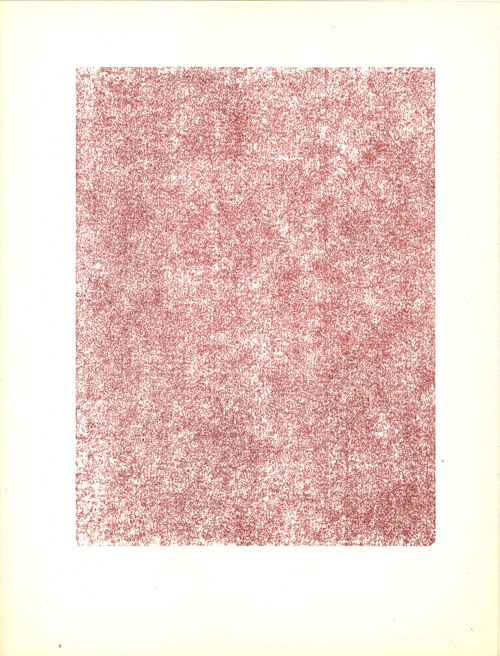 A CD of the 1972 recording is included with NOTES.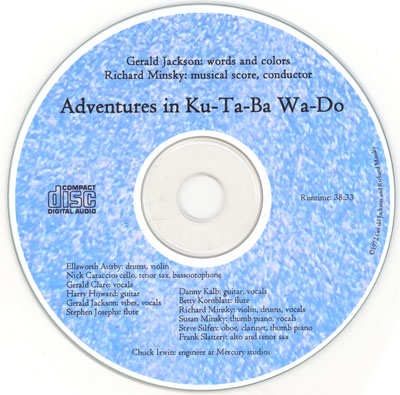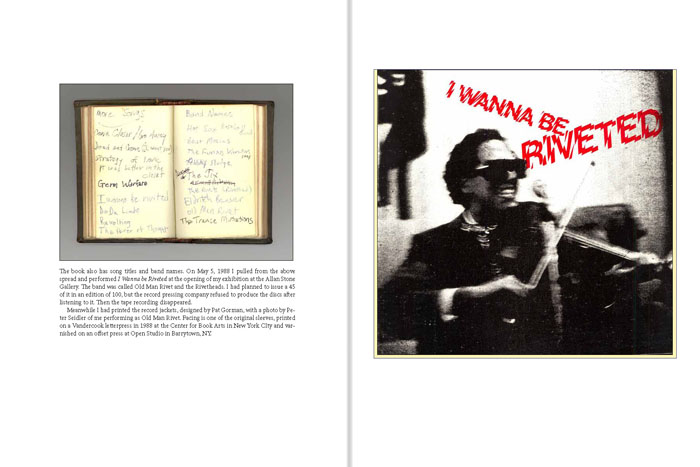 Every copy of the book includes an original
limited edition record jacket I printed letterpress in 1981 for the never released recording of I Wanna Be Riveted, performed by Old Man Rivet and the Rivetheads at the Allan Stone Gallery, May 5, 1981. The song title and band name came from Musical Theory. Photo of Minsky as Old Man Rivet by Peter Seidler, jacket design by Pat Gorman. The jacket is hung in a double-sided window. A sleeve in the jacket holds a CD with a recording of the event, including some conversations, sound check, and the performance. The tape was lost from 1981 to 2020. Read more about the CD and the jacket.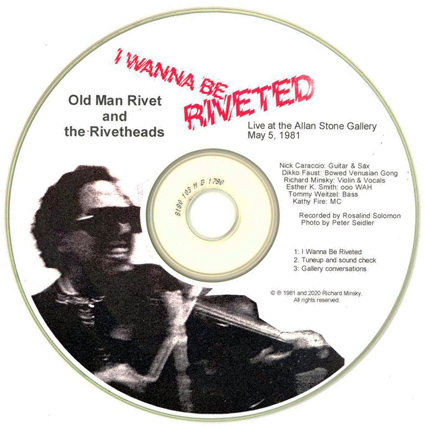 Notes also includes several sheet music transcriptions of MIDI compositions from the 1990s.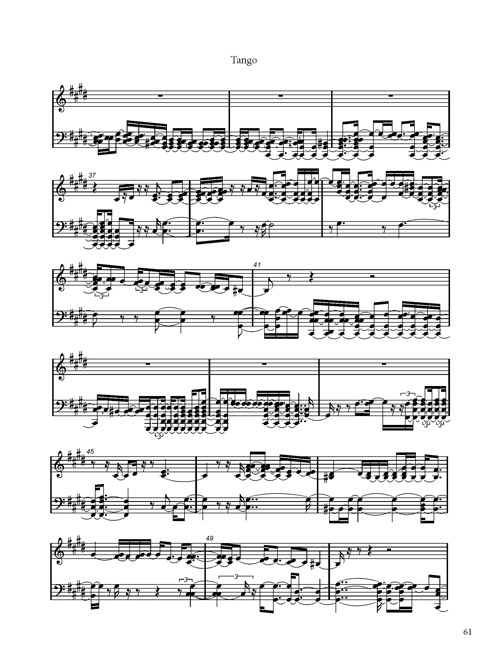 Scroll down or click here for the order form.
The Musical Chair

One copy of Notes is chained to a bench with 23 vintage organ pipes. The chair and keyboard console are made from the wood of one cherry tree that went down in a lighning storm. Photos of the construction of this work are here.

This is my second reading chair. See Freedom of Choice : Three Poems of Love and Death by Lucie Brock-Broido.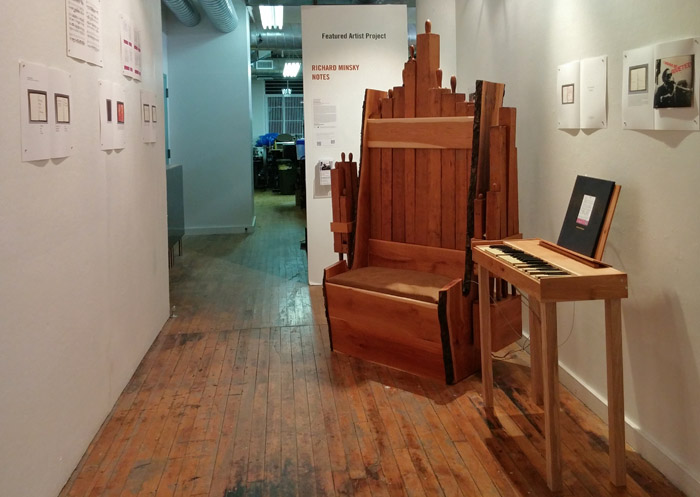 Installation of Notes at the Center for Book Arts, New York, October 10 — December 20, 2014

Questions? click to CONTACT Richard Minsky.
Limited Edition: with color reproductions of pages from the unique original manuscript book and additional new material. It will be printed in archival digital offset, in a hardbound cloth binding by Richard Minsky. Limited to fifteen signed copies numbered 1-15, each includes an original limited edition record jacket printed letterpress in 1988 for the never released recording of I Wanna Be Riveted, and other inclusions. Size: 12" x 9"

| | | |
| --- | --- | --- |
| Notes Limited Edition | $595.00 | |
Deluxe Edition: limited to five signed copies numbered I-V in a leather binding.
| | | |
| --- | --- | --- |
| Notes Deluxe Edition | $1,500.00 | |
Musical Chair: unique binding on a 13' x 9.5" copy of Notes, printed in archival high-resolution inkjet, chained to a cherry wood bench incorporating organ pipes, with a keyboard console made of wood from the same tree. See photos above.
Price: $120,000.00.
If you are interested in acquiring the chair, please use the Contact form, phone, or the Order Form below.
If you wish to pay by check, please use the order form below or phone.
Questions? click to CONTACT Richard Minsky.
click the View Cart button below to view your order or to continue checkout
International Orders:
The only method of international shipping available through the online ordering system is Express Mail International, which provides tracking and signature confirmation. If you have your own shipping account or other preferred carrier, use the form below and specify the shipping instructions in the Comments area. You can also pay by credit card with that option, and an electronic invoice will be sent to you.
To pay by check or institutional purchase order, or for special requests:
To pay by mail with a check or submit an institutional purchase order, please reserve your books or CD's online with the order form below, or by phone. If you prefer to use a credit or debit card, you can pay online using the secure ordering system by clicking on "add to cart" above for the items you choose. Please read the Terms.
You do not need to be a PayPal member to use the shopping cart. It accepts VISA, AMEX, MC and Discover cards, and is a secure merchant service operated by PayPal. If you are a PayPal member, it will also accept a transfer from your PayPal account.
If you prefer to provide shipping information that includes charging the shipping to your own account, please use the "comments" section of the form below and specify the carrier (UPS, FedEx, DHL) and account number.
If you have any questions, or wish to order by phone, please call (516) 729-9227, or use the contact form.

When filling out the form below please check your entries for accuracy, particularly your e-mail address. Additional contact information should be entered in the Message box.
Please note: Reservations will be held at the current price for ten days from your confirmation e-mail (Invoice) date pending receipt of payment from individuals. Approved institutions: subscriptions are held at the current price for 30 days pending receipt of payment.

If your institution requires payment to be made after delivery, we will reserve your copy and ship on publication with an invoice at the price noted below as "Institution with 30 day invoice on delivery." This secures your reservation at a price 10% below the current Publication Price, and it will not be higher even if the Publication Price goes up.
Terms:

1. All items must be prepaid on new accounts. Institutions (libraries, accredited schools, museums) may use purchase orders subject to terms. Please inquire.
2. The form above or telephone may be used to reserve your order pending timely receipt of your remittance.
3. New York residents must include applicable sales tax. Dealers and Exempt Organizations must include properly completed resale or EO certificate.
4. Shipping and handling will be added to orders not picked up in the gallery.
5. You are welcome to visit the Gallery by appointment in Hudson, NY.