Arthole
A collaborative art space in Second Life
by Nebulosus Severine & Arahan Claveau
Opened April 26th 2008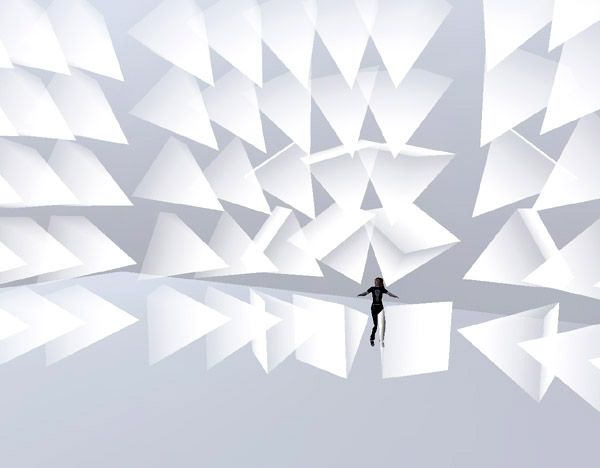 Nebulosus Severine's "Null" is an interactive sound sculpture.
Arthole is a set of three sky galleries in the Second Life® world, each with a different theme. One has older work by Arthole's creators, Nebulosus Severine and Arahan Claveau. The second has current work, and the third is for guest artists. The current guest artist is Ichibot Nishi.

Some of the art reacts to the proximity of your avatar, requiring the viewer to move through the exhibits rather than just survey the galleries with camera movement. Click on things that you see—some of them dispense notecards, like the books in a bedroom. Without giving away too many of the details and taking away the fun of discovery, here are photos of one work by each of the three artists.

The image of Nebulosus Severine's "Null" at the top of this page gives a sense of the work and its monochromatic beauty. As you fly through it the prisms turn and sounds are emitted. Readers of The ArtWorld Market Report know we are partial to this genre, and have featured works by Adam Ramona, DanCoyote Antonelli, Daruma Picnic and Juria Yoshikawa. We will be highlighting new ones by Sabine Stonebender and others next month. After the novelty wears off, the subtleties and variations that each artist brings to this new medium are what it's about. A new vocabulary is in order to describe the sensations and state of being that occur. For now, I can only recommend that you follow the slurl and feel it yourself.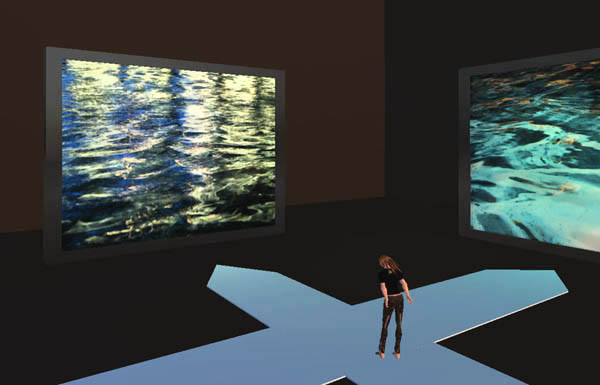 Fontana (2008) by Arahan Claveau
Across from "Null," in a room as dark as the other is light, is Fontana (2008) by Arahan Claveau (above). This work is also avatar interactive with light and sound, but in an entirely different way. The sounds contrast with the seductively hypnotic images, which appear to have depth and movement. Be sure to take the notecards that you are offered on entering the gallery and that are available at each exhibit. They are different, and each gives instructions for settings to the SL viewer for optimizing the experience.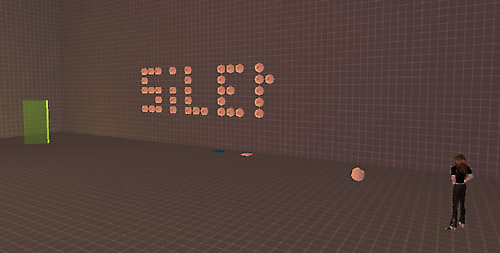 In Ichibot Nishi's λ.mnemonic, Silence writes itself on the wall in breasts and then floats off.
The third gallery is laid out with a grid on the floor and walls. Some of Ichibot Nishi's works are static, others, like the one shown here, are dynamic, and there are also interactive ones that are "physical" objects, i.e., if you kick some they will move. When you are there be sure to touch the green slab pictured above on the left.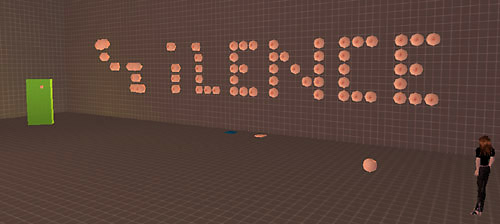 Silence begins to float off the wall.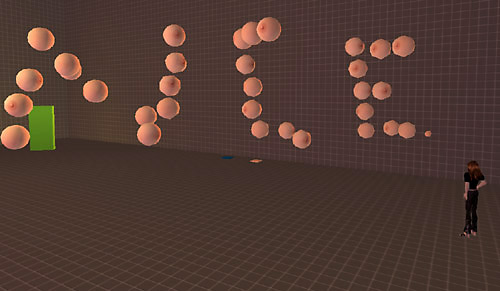 The choreography of the floating breasts is part of the experience.
Read the Arthole Press Kit (PDF)
"λ.mnemonic" © 2008 Ichibot Nishi
"Null" © 2008 Nebulosus Severine
"Fountain" © 2008 Arahan Claveau
©2009 Richard Minsky