American Publishers' Bindings
on the Books of
Amelia E. Barr
1882-1919

Collected and described by Richard Minsky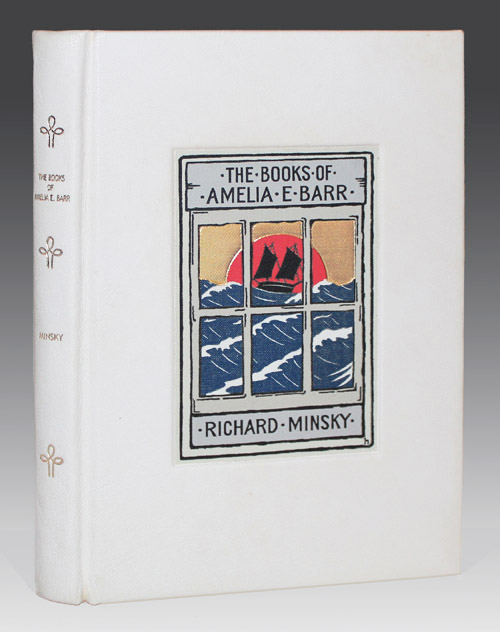 Deluxe binding on Copy No. 1, 2017
Alum tawed goatskin, 23K gold title on spine.
Panel adapted from an 1897 design by W. S. Hadaway,
archival pigment inkjet and gold on canvas.
This copy came with the entire collection that is in the catalog.
Collection of the University of Rochester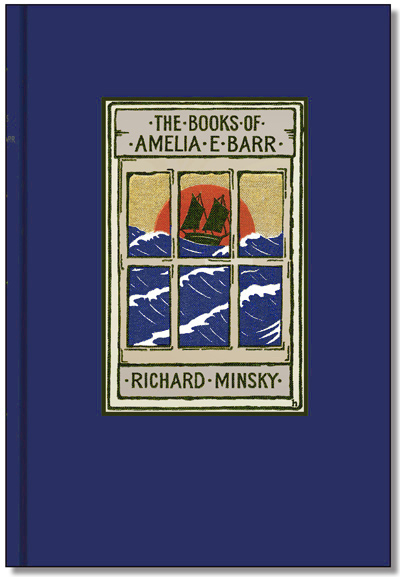 Limited Edition cover adapted from
the 1897 William Snelling Hadaway design
for Prisoners of Conscience.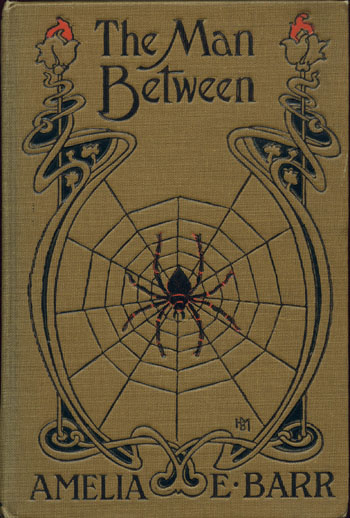 The Man Between
Illustrated by Frank T. Merrill
New York and London: Authors and Newspapers Association, 1906
Cover by Harry B. Matthews
Click here for installation views of the gallery exhibition.
READY TO ORDER? SCROLL DOWN OR CLICK HERE.
Amelia Edith Huddleston Barr (March 29, 1831-March 10, 1919) was an author of historical fiction, often with romance. Publishers assigned some of the best artists to design her covers.
Her life story is exceptional. Born in England, she and her husband emigrated to America in 1853, had nine children, six of whom died, the last three of yellow fever in Galveston, along with her husband, in 1867. She and three daughters moved to New York, where she supported the family writing articles, stories and poems for magazines.
Jan Vedder's Wife (1885) was her first widely popular novel (she was 54). Though she kept writing for magazines, most of her work was devoted to novels after that, producing two new books a year. She died a few weeks before her 88th birthday, with more than 70 published books to her credit, leaving an unfinished manuscript.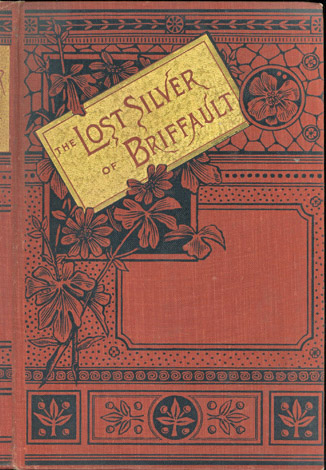 The Lost Silver of Briffault
New York & Cincinnati: Hunt & Eaton, 1892
©1885 Phillips & Hunt [in the same binding]
Eastlake style cover design
Amelia E. Barr On Women's Rights
At the end of her autobiography [All The Days of My Life: The Red Leaves of a Human Heart, 1913] she wrote:
Nobody has watched the daily papers of the last few months with more eager and passionate interest than I have done. I have followed the great colonel with all my youthful enthusiasms, and listened at the street corners to the noble band of women pleading for their just rights. . . . .

"Then I am for Women's Suffrage?" I am for the enfranchisement of every slave. I am for justice, even to women. Any one who lived in England during the early half of the nineteenth century would be a suffragist; for then the most highly cultured wife was constantly treated by her husband, as Tennyson says, "Something better than his dog, a little dearer than his horse."

Men ought to remember that they have had a mother, as well as a father, and that in most cases she has been, in every way, the better parent of the two. All my life long I have been sensible of the injustice constantly done to women. Since I have had to fight the world single-handed, there has not been one day I have not smarted under the wrongs I have had to bear, because I was not only a woman, but a woman doing a man's work, without any man, husband, son, brother or friend, to stand at my side, and to see some semblance of justice done me. I cannot forget, for injustice is a sixth sense, and rouses all the others. If it was not for the constant inflowing of God into human affairs, the condition of women would today have been almost as insufferable, as was the condition of the negro in 1860. However, the movement for the enfranchisement of women will go forward, and not backward, and I have not one fear as to the consequences it will bring about.
READY TO ORDER? CLICK HERE.
You also may be interested in





The Book Cover Art of Thomas Watson Ball
and
Trade Bindings with Native American Themes 1875-1933

The catalogs of publisher's bookbindings being done by Richard Minsky are a fundamental resource in the field. In my last conversation with Sue Allen, she praised his work and told me Richard was "the one to watch." Richard's research has been invaluable in documenting the extensive holdings of the Book Arts Collection at the University of Washington Libraries and providing correct citations for the digital site we are preparing.
—Sandra Kroupa
Book Arts and Rare Book Curator, University of Washington Libraries
Questions? click to CONTACT Richard Minsky.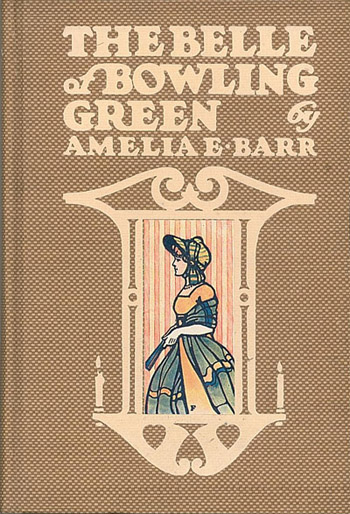 The Bell of Bowling Green
Illustrated by Walter H. Everett
New York: Dodd, Mead & Co., 1908
Cover by Charles Buckles Falls



The King's Highway
Dodd, Mead & Co, 1897
Cover: Blanche McManus Mansfield


This is our first exhibition of publishers' bindings that focuses on books by one author. Her high output during the period from from the 1880s to 1918 gives us a marvelous set of publishers' bindings that represent the transition of cover art from Eastlake post-Victorian styling to Arts and Crafts, Japonisme, Art Nouveau and Poster style.
Cover artists include Amy Richards, Blanche McManus Mansfield, Thomas Watson Ball, William Snelling Hadaway, Harry B. Matthews, Alice Cordelia Morse, and Theodore B. Hapgood.
In addition to the published editions, the exhibition includes an original manuscript of one of the books. 250 pages of it are typescript with ink corrections, and the remainder of the 476 pages are ink, in Amelia Barr's handwriting. This gives a fascinating glimpse into the author's process, and a comparison with the printed book reveals further changes made between this manuscript and its publication.
The exhibition also includes newspaper and magazine articles, serializations, and short strories, which provide a window into the history of publishing at that time. Seeing Thyra Varrick in a 1903 illustrated magazine serialization among advertisements for corsets and household supplies takes this romance set in 18th century Scotland and, for us, places it in the material culture of turn-of-the-century America. The Man Between as a 1906 New York newspaper illustrated Sunday literary supplement is a very different reading experience than either a magazine or a book.


Prisoners of Conscience
The Century Company, 1897
Cover: William Snelling Hadaway


The format of this edition is different from previous catalogs. A 6" x 9" book, instead of having just the bibliographic information, each entry has a relevant excerpt from Amelia Barr's autobiography. The book includes the story of her life, with excerpts from her own narrative.
The Internet has many articles about her, and much of the online information is contradictory. Even simple facts like how many children she had, or how many books she wrote, are misinformed. It is easy to see how some of this confusion arose. At the conclusion of her autobiography (1913) she included a list of 61 published books. Some of the dates and publishers do not match what is in the exhibition, or in library catalogs. Many books were issued in several editions, by different publishers, which may account for some discrepancies, and there may be "lost" editions. Two of the books in her list I found no other record of. Eleven more were published after her memoir. Our list of her books has 71 entries.
Amelia Barr kept no list of her thousands of contributions to magazines and papers of articles and poems, and wrote, "Nor can I even pretend to remember the very numerous essays, and social and domestic papers which were almost constantly contributed; I have forgotten the very names of this vast collection of work and I never kept any record of it. Indeed, only some chance copy has escaped the oblivion to which I gave up the rest. They kept money in my purse; that was all I asked of them. I do not even possess a full set of the sixty novels I have written. I may have twenty or thirty, not more certainly."
There are more than 100 books in this exhibition, which is limited to American editions of her work (U.S.A. and Canada), with 64 different covers and many variants. It does not include every title of those that were issued in identical bindings as uniform sets.
There will not be separate limited and deluxe editions of this title.
Limited Edition printed in full color on an Indigo 7600 digital offset press, in a 6" x 9" format, hand bound, sewn with linen thread, in a hardcover binding with a design adapted from one of the covers in the exhibition, an archival inkjet printed dust wrapper, and polyester protective overwrap. Edition of 50 signed and numbered copies. Please allow four weeks for delivery. Each copy is bound on order.
Price: $600.00

The Books of
Amelia E. Barr

$600.00
If you wish to pay by check, please use the order form below.
~
The previous exhibition catalogs in this series documented more than 1,300 book covers.
Together they provide an extensive resource for curators, catalogers, scholars,
art historians, designers, collectors, and students of material culture.
Many institutions have acquired them.
~
Questions? click to CONTACT Richard Minsky.
click the View Cart button below to view your order or to continue checkout
International Orders:
The only method of international shipping available through the online ordering system is Express Mail International, which provides tracking and signature confirmation. If you have your own shipping account or other preferred carrier, use the form below and specify the shipping instructions in the Comments area. You can also pay by credit card with that option, and an electronic invoice will be sent to you.
To pay by check or institutional purchase order, or for special requests:
To pay by mail with a check or submit an institutional purchase order, please use the order form below, or order by phone. If you prefer to use a credit or debit card, you can pay online using the secure ordering system by clicking on "add to cart" above for the items you choose. Please read the Terms.
You do not need to be a PayPal member to use the shopping cart. It accepts VISA, AMEX, MC and Discover cards. If you are a PayPal member, it will also accept a transfer from your PayPal account. If you prefer, credit card payments can be processed through Square by phone.
If you prefer to provide shipping information that includes charging the shipping to your own account, please use the "comments" section of the form below and specify the carrier (UPS, FedEx, DHL) and account number.
If you have any questions, or wish to order by phone, please call (516) 729-9227, or use the contact form.

When filling out the form below please check your entries for accuracy, particularly your e-mail address. Additional contact information should be entered in the Message box.
Please note: Reservations will be held at the current price for ten days from your confirmation e-mail (Invoice) date pending receipt of payment from individuals. Approved institutions: if your institution requires payment to be made after delivery, check "Pre-order for delivery after publication with 30 day invoice" on the form.
Terms:

1. All items must be prepaid on new accounts. Institutions (libraries, accredited schools, museums) may use purchase orders subject to terms. Please inquire.
2. The form above or telephone may be used to reserve your order pending timely receipt of your remittance.
3. New York residents must include applicable sales tax. Dealers and Exempt Organizations must include properly completed resale or EO certificate.
4. Shipping and handling will be added to orders not picked up in the gallery.
5. You are welcome to visit the Gallery by appointment in Hudson, NY.
The previous exhibition catalogs in this series documented more than 1,200 book covers.
Together they provide a valuable resource for curators, catalogers, scholars,
art historians, designers, collectors, and students of material culture.
Many institutions have acquired them.
Trade Bindings with Native American Themes 1875-1933
2014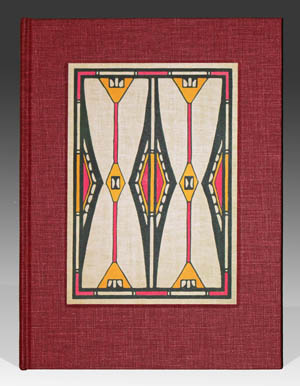 The Book Cover Art of
Thomas Watson Ball
2012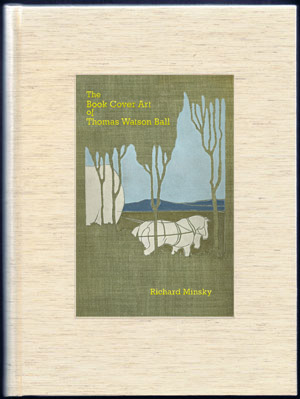 American Decorated
Publishers' Bindings
1872-1929
Volume 1, 2006

Volume 2, 2009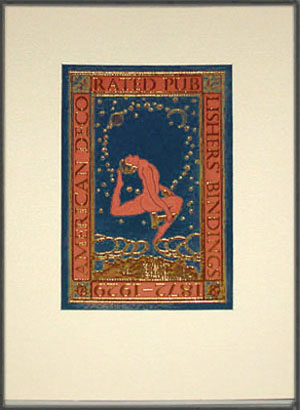 Volume 3, 2010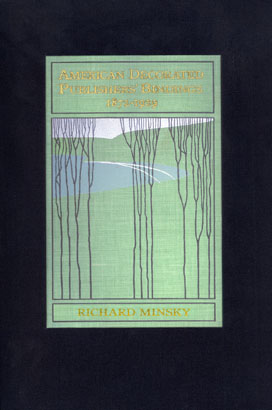 VISIT THE BLOG:
THE ART OF
AMERICAN BOOK COVERS