The Gallery Archive
American Publishers' Bindings
on the Books of
Amelia E. Barr
1882-1919
[Exhibition ended March 31, 2016]
Welcome to the online gallery.
The real gallery is near Hudson, New York
about 30 miles southeast of Albany.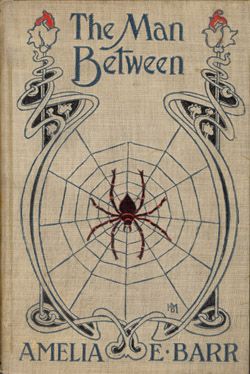 This exhibition had a printed catalog. Click here for ordering information and some photos of individual bindings.
Scroll down and enjoy some photos of the installation.
Links to web archives of previous exhibitions are at the bottom of the page, along with information about their catalogs.
For more information about American publishers' bindings, visit the blog.
The books all have mylar dust jackets, so there are some reflections of the lights in these photos.
Below are snapshots of some of the cabinets. There are more than a hundred items in the exhibition.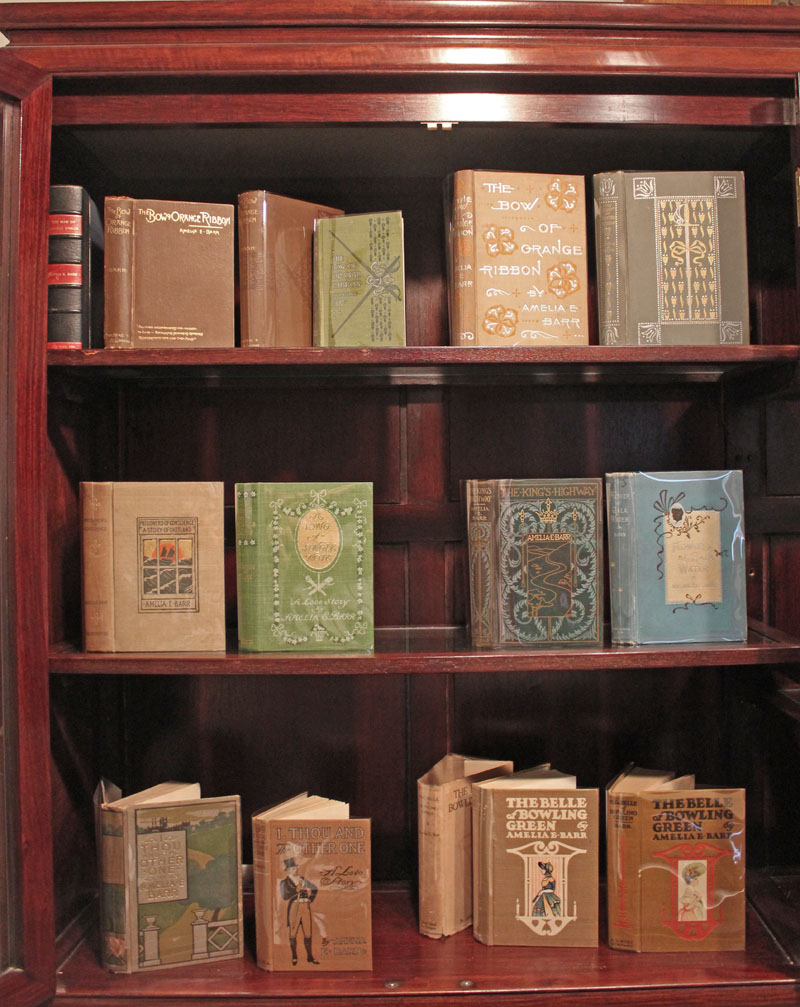 This cabinet includes covers by Alice Cordelia Morse, William Snelling Hadaway, Blanche McManus Mansfield, and Charles Buckles Falls.
Amelia Edith Huddleston Barr (March 29, 1831-March 10, 1919) was a popular author of historical romance. Publishers assigned some of the best artists to design her covers.
Her life story is exceptional. Born in England, she and her husband emigrated to America in 1853, had nine children, six of whom died, the last three of yellow fever in Galveston, along with her husband, in 1867. Amelia and the three remaining daughters moved to New York, and she supported the family writing articles, stories and poems for magazines.
She was an influential advocate of Women's Rights. Click here to read a powerful statement from her autobiography.
Her novel Jan Vedder's Wife was published by Dodd, Mead & Co. in 1885 (she was 54), and was a popular success. Though she kept writing for magazines, most of her work was devoted to novels after that. With more than 70 published books to her credit, the last one finished when she was 87, she died a few weeks before her 88th birthday, leaving an unfinished manuscript.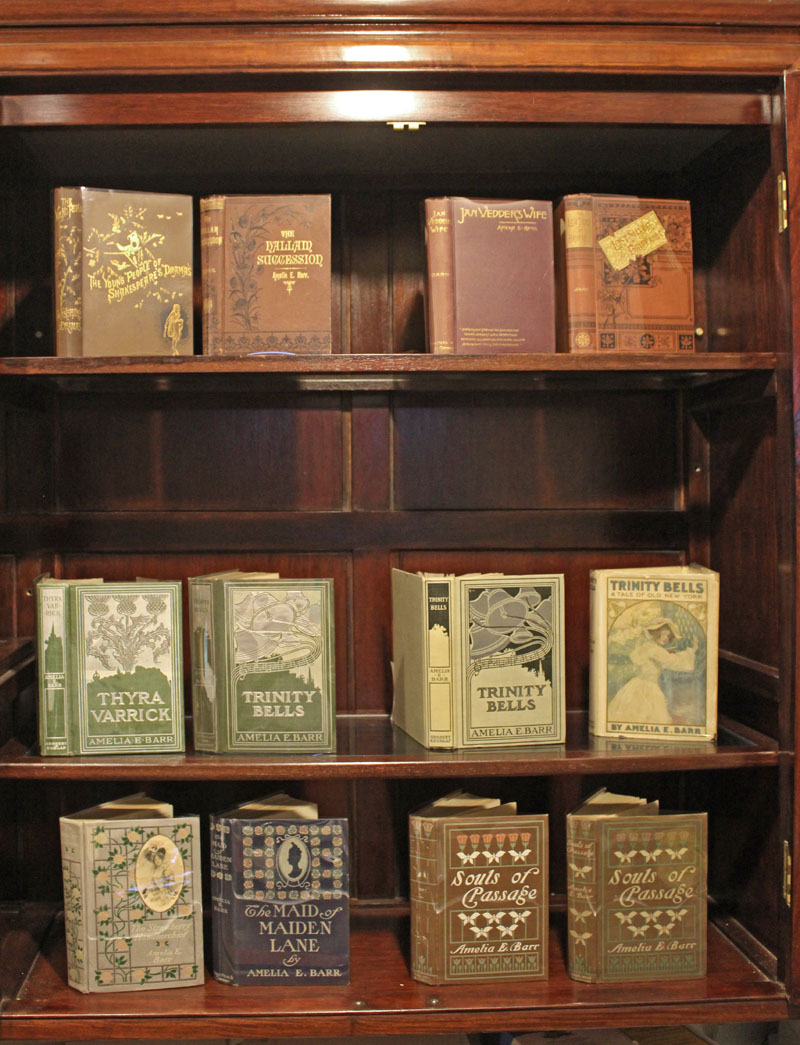 The cabinet above includes some of the earliest bindings and covers by Thomas Watson Ball and Evelyn W. Clark.
This exhibition is different from our previous ones in that it focuses on books by one author. She is of particular interest not just because of her life and works, but her high output from the 1880s to 1918 gives us a marvelous set of publishers' bindings that represent the transition of cover art from Eastlake post-Victorian styling to Arts and Crafts, Japonisme, Art Nouveau and Poster style.
Cover artists include Amy Richards, Blanche McManus Mansfield, Thomas Watson Ball, William Snelling Hadaway, Harry B. Matthews, Alice Cordelia Morse, Theodore B. Hapgood and the Decorative Designers.
In addition to the published editions, the exhibition includes an original manuscript of one of the books, Thyra Varrrick. 250 pages of it are typescript with ink corrections, and the remainder of the 476 pages are ink, in Amelia Barr's handwriting. This gives a fascinating glimpse into the author's process, and a comparison with the printed book reveals further changes made between this manuscript and its publication.
The exhibition also includes newspaper and magazine articles, short strories and serializations, which provide a window into the history of publishing at that time. Seeing Thyra Varrick in a 1903 illustrated magazine serialization among advertisements for corsets and household supplies takes this romance set in 18th century Scotland and, for us, places it in the material culture of turn-of-the-century America. The Man Between as a 1906 New York newspaper illustrated Sunday literary supplement is a very different reading experience than either a magazine or a book.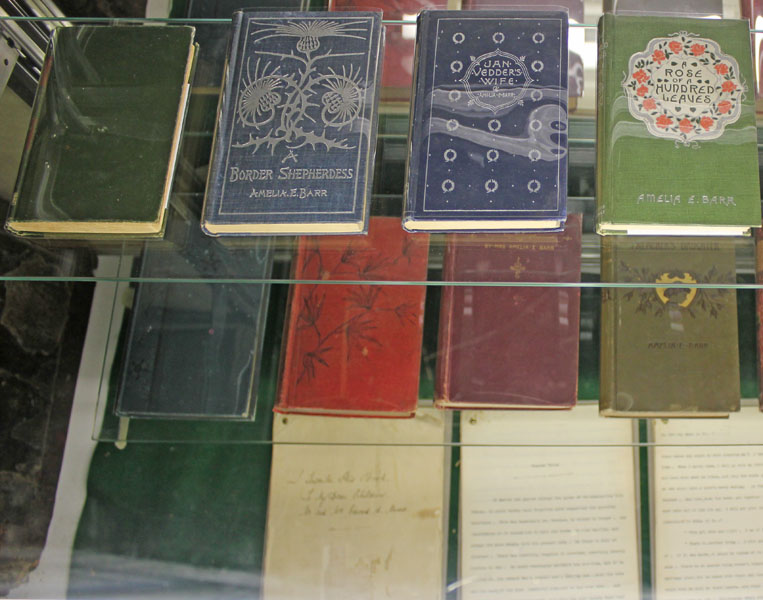 Above case includes Alice C. Morse, some early covers, and the original manuscript of Thyra Varrick.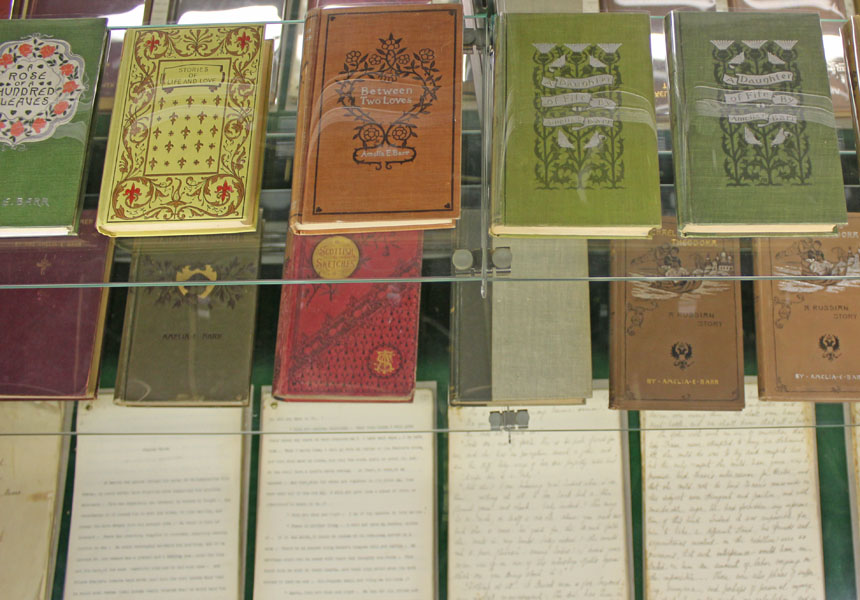 Covers by Amy Richards, early covers, and the Thyra Varrick manuscript.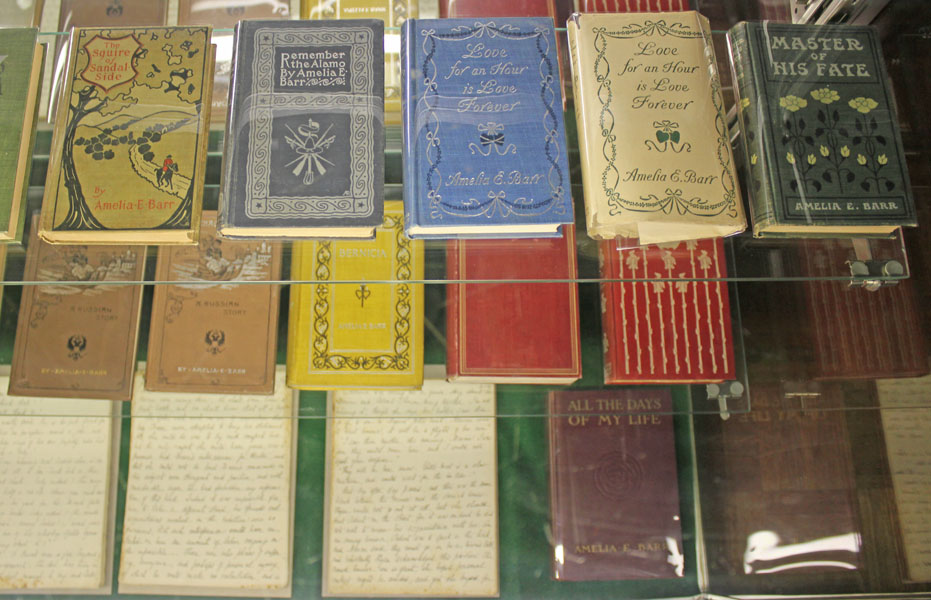 The above photo includes Amy Richards covers, a likely T. W. Ball, and the Thyra Varrick manuscript.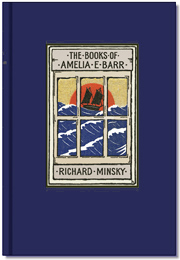 Click here for catalog subscription information and some photos of individual bindings in this exhibition.
---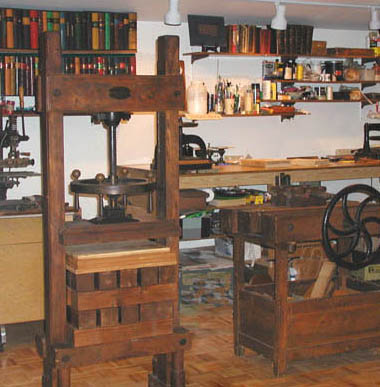 A traditional hand bindery occupies half the gallery building. When visiting you can see work in progress. Click any of the sections below to see Minsky bindings created from 1968 to recently.
To continue the exhibition, click one of the sections
Each section has several thumbnail images and descriptions of the works. You can click on any image for a page about that work, with larger pictures and details.
---





©1997-2014 Richard Minsky. All rights reserved.
No photos, descriptions or text on this page may be used without written permission.