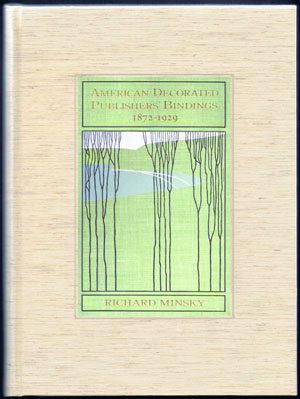 Above: The Deluxe Edition
The Third Exhibition of
American Decorated Publishers' Bindings, 1872-1929
Collected and Described by Richard Minsky
(click the title above or here to view the gallery installation)
Questions? click to CONTACT Richard Minsky.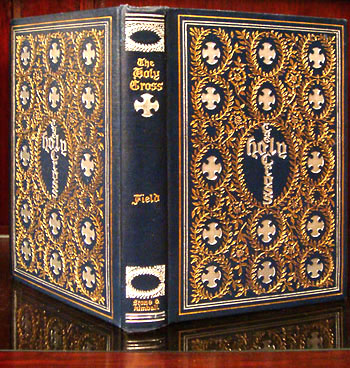 The Holy Cross
Design by Louis J. Rhead, 1893
300 DESIGNS NOT SHOWN IN THE PREVIOUS TWO EXHIBITIONS
If you missed the first exhibition, copies of the first catalog are still available.
The catalog of the second exhibition also is available.
You may be able to read a copy of the first or second catalog at a library near you.
Look at the list of institutions that have the catalog in their collection.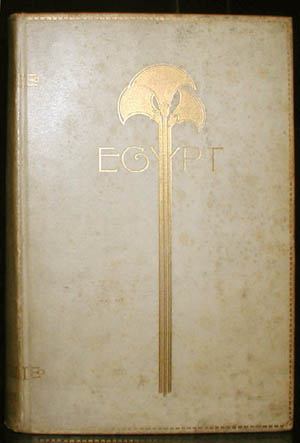 EGYPT
Design by Sarah Wyman Whitman, 1892
Vellum stamped in gold (bright spot is reflection of light)
Also issued in brown stamped suede.
The following cover artists are in this catalog (artists not in the previous two exhibitions are teal):
Margaret Armstrong
Seymour Ball
Thomas Watson Ball
Albert D. Blashfield
Franklin Booth
Paul Bransom
Alfred Brennan
Tom Browne
Charles Livingston Bull
Jay Chambers
Harry Cimino
Evelyn W. Clark
Thomas Maitland Cleland
Earl Stetson Crawford
William Mather Crocker
Clyde E. Darr
The Cx Designer
The Decorative Designers
Margaret Eckerson
George Wharton Edwards
Adam Empie
George Allan England
Charles Buckles Falls

Walter W. Fawcett
Dan Sayre Grosbeck
Bertram Grosvenor Goodhue
Frederick W. Gookin
F. C. Gordon
Frederic W. Goudy
Alberta Hall
George Hawley Hallowell
Theodore Brown Hapgood
Mabel Harlow
Stuart Hay
Frank Hazenplug
Edward Stratton Holloway
George W. Hood
L. B. Humphrey
Adrian Iorio
William James Jordan
Rockwell Kent
F. R. Kimbrough
Frederick Lowenheim
Blanche McManus Mansfield
Harry B. Matthews
Alice C. Morse
Florence Pearl (England) Nosworthy
Marion L. Peabody
Victor Perard
Mary E. Phillips
Maurice B. Prendergast
Howard Pyle
Amy Rand
Ethel Reed
Louis J. Rhead
Amy Richards
Rome K. Richardson
Rachel Robinson
Bruce Rogers
Amy Sacker
Julius A. Schweinfurth
Frank Berkeley Smith
W. E. B. Starkweather
Bertha Stuart
Lee Thayer
Paul Verburg
Sarah Wyman Whitman
F. C. Yohn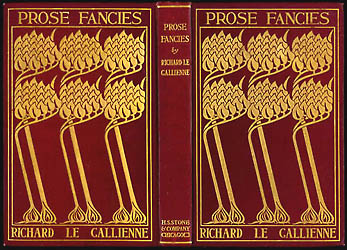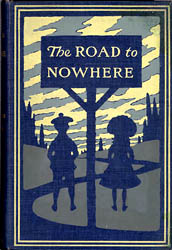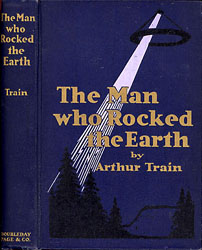 The catalog is issued in three formats to complement the editions of the first and second volumes.
Deluxe Edition limited to 25 signed and numbered copies with color photos of 300 designs that are not in the first two volumes, printed in archival high resolution inkjet, in a hardbound cloth binding by Richard Minsky, based on a cover design in this edition. It is in the 13" x 9.5" format. The CD-ROM accompanies the book in a separate plastic case.
$1,500.00
The Deluxe Edition is not available for online payment.
Please use the Order Form below.
Questions? click to CONTACT Richard Minsky.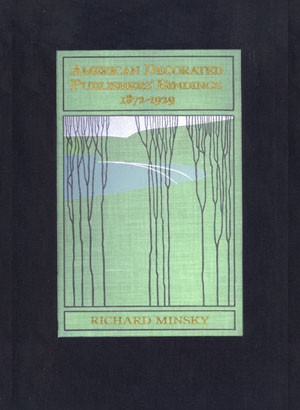 Above: The Limited Edition
Limited Edition printed on an Indigo 5000 digital offset press with the same text as the Deluxe Edition, but in the slightly smaller 12" x 9" format, in a flexible cloth cover with a gold-stamped panel adapted from the 1899 T. W. Ball design for Gilian the Dreamer, an archival inkjet printed dust wrapper, and polyester protective overwrap. Edition of 100 signed and numbered copies. The CD-ROM is included in a separate plastic case. Each copy is bound to order. Please allow 4-6 weeks for delivery.
$750.00
LIMITED EDITION
The Third Exhibition of
American Decorated Publishers' Bindings 1872-1929

$750.00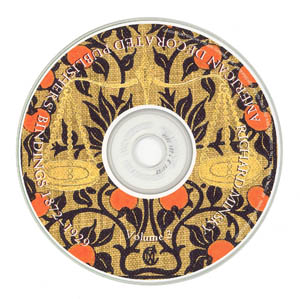 Above: The CD-ROM Edition
CD-ROM Edition with all the text and images of the Deluxe Edition in PDF format. Also includes the database with separate fields for title, author, publisher, date, designer, description of binding, variants. The discs used are MAM-A Gold Archive, which claim a 200+ year data life. A browser-viewable version of the checklist with small images of every book is on the disk, the archive of Subscribers' Newsletters that were issued while the book was in preparation, and some 19th century references that we have converted to PDF for easy viewing.
$90.00
CD-ROM EDITION
The Third Exhibition of
American Decorated Publishers' Bindings 1872-1929

$90.00
click the View Cart button below to view your order or to continue checkout

International Orders:
The only method of international shipping available through the online ordering system is Express Mail International, which provides tracking and signature confirmation. If you have your own shipping account or other preferred carrier, use the form below and specify the shipping instructions in the Comments area. You can also pay by credit card with that option, and an electronic invoice will be sent to you.
To pay by check or institutional purchase order, or for special requests:
To pay by mail with a check or submit an institutional purchase order, please reserve your books or CD's online with the order form below, or by phone.  If you prefer to use a credit or debit card, you can pay online using the secure ordering system by clicking on "add to cart" above for the items you choose. Please read the Terms.
You do not need to be a PayPal member to use the shopping cart. It accepts VISA, AMEX, MC and Discover cards, and is a secure merchant service operated by PayPal. If you are a PayPal member, it will also accept a transfer from your PayPal account.
To provide shipping information that includes charging it to your own account, please use the "comments" section of the form below and specify the carrier (UPS, FedEx, DHL) and account number.
If you have any questions, or wish to order by phone, please call (516) 729-9227, or use the contact form.

When filling out this form please check your entries for accuracy, particularly your e-mail address. Additional contact information should be entered in the message box..
Please note: Reservations will be held for ten days from your confirmation e-mail (Invoice) date pending receipt of payment from individuals. Approved institutions: subscriptions are held for 30 days pending receipt of payment.
Terms:

1. All items must be prepaid on new accounts. Institutions (libraries, accredited schools, museums) may use purchase orders subject to terms. Please inquire.
2. The form above or telephone may be used to reserve your order pending timely receipt of your remittance.
3. New York residents must include applicable sales tax. Dealers and Exempt Organizations must include properly completed resale or EO certificate.
4. Shipping and handling will be added to orders not picked up in the gallery.
5. You are welcome to visit the Gallery by appointment in Hudson, NY.