The Gallery Archive

The Third Exhibition of
American Decorated Publishers' Bindings 1872-1929
[Exhibition ended June 2, 2011]



This cabinet includes two copies of Sarah Wyman Whitman's 1892 design for Martin Brimmer's Egypt, which was issued by
Houghton in vellum stamped with gold and in suede stamped with brown. Also shown are William James Jordan's 1902 design
for McClure on The Taskmasters, F. R. Kimbroough's design for Stone on Miss Ayr of Virginia, and Frank Hazenplug's 1900 design
on A Valley Muse. The bottom shelf includes The Road to Nowhere, a 1900 design from Harper's that is likely by Thoman Watson Ball.
The cover art to the right of that shelf on I and my True Love is from The Decorative Designers.

Thank you for visiting the online gallery. This is our third exhibition featuring the Golden Age of publishers' bindings. Combined with the previous two exhibitions on this subject, we have showed a total of 1,100 designs by 141 known designers and many anonymous ones. The current exhibition features 300 and 26 artists not previously shown. The catalog is the third volume issued on this subject.
The CATALOG of the Third Exhibition is now available. The exhibition was acquired by The Boston Athenaeum in its entirety.
The second exhibition, with 300 designs, ended November 20, 2008. That entire collection was acquired by The Lilly Library at Indiana University, Bloomington. The fully illustrated catalog of the second exhibition is available in Limited and Deluxe editions and on CD-ROM.
The first exhibition ended in August 2005, and that entire collection was acquired by the University of Alabama. A beautiful and comprehensive illustrated catalog was produced that included high resolution images of all 500 designs in the collection plus many variants, as well as bibliographic information. Essays by Richard Minsky on the aesthetic and historical aspects of this art form provide several methodologies for collecting these works, and demonstrate that artists were doing work on book covers that was prototypical of art movements that arose decades later.
The Limited Edition and CD-ROM versions of the first three exhibition catalogs may now be ordered online.
The Third Exhibition of
American Decorated Publishers' Bindings, 1872-1929

The Strife of the Sea has a DD cover. Reptiles is one of the great typographic designs of the period,
by the unknown designer who used the monogram Cx.
This cabinet includes work by Henry McCarter, DD, Charles Livingston Bull, and more.

The Third Exhibition presents 300 designs that were not in the previous exhibitions. It is notable for the beautiful condition of the  examples shown, as well as the presentation of many designs you may not have seen before. Featured artists in this show include Sarah Wyman Whitman, Frank Hazenplug, Amy Richards, Amy M. Sacker, and the Cx designer, a prolific artist known only by the monogram.

The list of cover artists is below (artists not in the previous two exhibitions are teal):

Margaret Armstrong
Seymour Ball
Thomas Watson Ball
Albert D. Blashfield
Franklin Booth
Paul Bransom
Alfred Brennan
Tom Browne
Charles Livingston Bull
Jay Chambers
Harry Cimino
Evelyn W. Clark
Thomas Maitland Cleland
Earl Stetson Crawford
William Mather Crocker
Clyde E. Darr
The Cx Designer
The Decorative Designers
Margaret Eckerson
George Wharton Edwards
Adam Empie
George Allan England
Charles Buckles Falls

Walter W. Fawcett
Dan Sayre Grosbeck
Bertram Grosvenor Goodhue
Frederick W. Gookin
F. C. Gordon
Frederic W. Goudy
Alberta Hall
George Hawley Hallowell
Theodore Brown Hapgood
Mabel Harlow
Stuart Hay
Frank Hazenplug
Edward Stratton Holloway
George W. Hood
L. B. Humphrey
Adrian Iorio
William James Jordan
Rockwell Kent
F. R. Kimbrough
Frederick Lowenheim
Blanche McManus Mansfield
Harry B. Matthews
Alice C. Morse
Florence Pearl (England) Nosworthy
Marion L. Peabody
Victor Perard
Mary E. Phillips
Maurice B. Prendergast
Howard Pyle
Amy Rand
Ethel Reed
Louis J. Rhead
Amy Richards
Rome K. Richardson
Rachel Robinson
Bruce Rogers
Amy Sacker
Julius A. Schweinfurth
Frank Berkeley Smith
W. E. B. Starkweather
Bertha Stuart
Lee Thayer
Paul Verburg
Sarah Wyman Whitman
F. C. Yohn

The Holy Cross
by Eugene Field
Cover Design by Louis J. Rhead
Stone & Kimball, 1893
Please note: I welcome comments and corrections on any of the captions or catalog information! Click on contact to send me a message.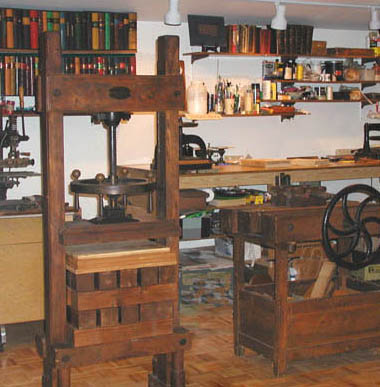 Right: In the bindery
a Bertrand Frères percussion press is on the left,
next to a lying press and plough.

Left: The Romance of the Rivers features a cover in bright and matte textured gold.
The cover of Aesop, by The Decorative Designers, uses the background color of
the cloth for the wolf in the foreground, creating an unusual visual tension.

The Limited Edition and CD-ROM versions of the first three exhibition catalogs may now be ordered online.
Exhibition Archive:
American Decorated Publishers' Bindings 1872-1929 (ended August 2005)
30 Years of Book Art: 1974-2003 (ended July, 2007)
American Decorated Publishers' Bindings 1872-1929 (ended November 2008)
---
To continue the exhibition, click one of the sections or a button
Each section has several thumbnail images and descriptions of the works. You can click on any image for a page about that work, with larger pictures and details.
---





© 1997-2011 Richard Minsky. All rights reserved.
No photos, descriptions or text on this page may be used without written permission.