The Gallery Archive
American Decorated Publishers' Bindings 1872-1929
Exhibition ended August 27, 2005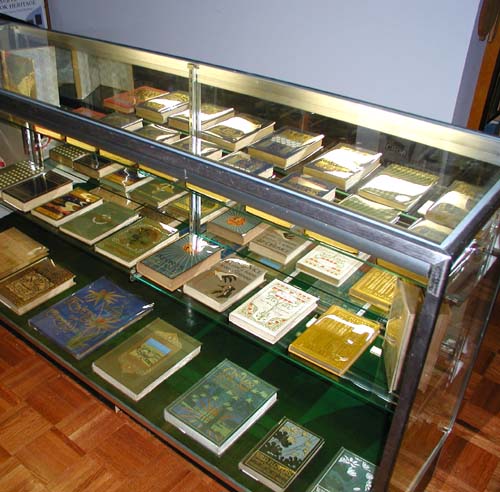 Above: The large display case with about 25 beautiful bindings.

Thank you for visiting the online gallery. Through August 2005, the exhibition was American Decorated Publishers' Bindings 1872-1929. There were 500 books on display. A catalog is available. Scroll down the page to see photos of the gallery installation and the bindery.
The Deluxe, Limited Edition and CD-ROM versions of the exhibition catalog may now be ordered online. Click here for details about the editions.
Artists represented in this exhibition as identified cover designers include the following:
You will see the artists' names in [brackets] as you browse the checklist.

Edwin Austin Abbey
Margaret Armstrong
E. J. Austen
Thomas Ball
Reginald Bathurst Birch
Elisha Brown Bird
Adolphe. E.Borie
Will Bradley
Claude Bragdon
Alfred Brennan
Charles Livingston Bull
H. T. Carpenter
Jay Chambers
Elizabeth W. Champney
Evelyn W. Clark
Henry Hunt Clark
Thomas Maitland Cleland
Ethel Pearce Clements
Earl Stetson Crawford
W.W. Denslow
George Wharton Edwards
Adam Empie
Charles Buckles Falls
James Finnimore
Helena deKay Gilder
Bertram Grosvenor Goodhue
Frederic W. Goudy
William Snelling Hadaway

Mabel Harlow
Frank Hazenplug
Charles L. Hinton
Edward Stratton Holloway
George W. Hood
Dard Hunter
Adrian Iorio
Will Jenkins
Will Jordan
Lawrence
J. C. Leyendecker
Will H. Low
Florence Lundborg
Blanche McManus Mansfield
Harry B. Matthews
Griselda Marshall McClure
H. W. McVickar
Thomas Buford Meteyard
Enrico Monetti
Alice Cordelia Morse
Florence Pearl Nosworthy
F. C. Gordon
Olive Lothrop Grover
Alberta Hall
Frederick Garrison Hall
George H. Hallowell
Theodore Brown Hapgood
William Dana Orcutt
Eric Pape
H. L. Parkhurst
Maxfield Parrish
Marion L. Peabody
J. Alden Peirson
Mary Prindeville
Amy Rand
Louis Rhead
Amy Richards
Julia Ward Richards
Rome K. Richardson
Rachel Robinson
Bruce Rogers
Charles M. Russell
Amy Sacker
Will Schrank
Frank Berkeley Smith
Maud Hunt Squire & E. Mars
W.E.B. Starkweather
Charles H. Stephens
Walter King Stone
Bertha Stuart
Lee and Henry Thayer (The Decorative
Designers)
Henry Van Dyke
Sarah Wyman Whitman
Genjiro Yeto
The attribution of unsigned bindings, and even some signed ones, is a fascinating area, and the sleuthing may involve comparisons of image, typography, and knowledge of who was working for which publisher at a given date. Experts can disagree. Click here for a beautiful example, and an illustrated (incomplete) checklist of this collection. Click here to subscribe to the catalog.
American Decorated Publishers' Bindings, 1872-1929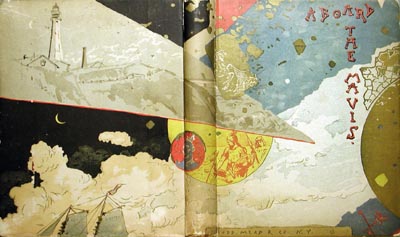 Markham, Richard. Aboard The Mavis. New York, Dodd, Mead and Company, 1880.
Please note: I welcome comments and corrections on any of the captions or catalog information! Click on contact to send me a message.

Right: In the bindery
a Bertrand Frères percussion press is on the left,
next to a lying press and plough.

Below: Wild Flowers of Colorado (1885) features Emma Thayer's flowers. The very modern looking binding below that is Aboard the Mavis, an unsigned 1880 cover design that is remarkable for its forecasting and integration of many design paradigms that developed in the 20th century. Both these titles (not these copies) were included in the fabulous Grolier Club exhibition in 2000.

Above: That Farm is a great example of the Decorative Designers 1914 use of fountain bleed. The River's Children is a beautiful 1904 Art Nouveau and Pre-Raphaelite crossover gold panel binding, and Reveries of a Bachelor uses a swirl of color in 1906 that predates abstract expressionism.

Below: The Garden of Allah is shown in several (1904-1907) bindings I attribute to Frederick Garrison Hall and George W. Hood. Click the link to see a page about this book and its several editions.

Above: Left is Evelyn W. Clark's cover on John Gayther's Garden (1902) and a Henry Thayer design for Hawthorne and Lavender (1901).

Below: Edwin Austin Abbey took Art Nouveau to a new place with these two designs, on Herrick's Poems (1882) and Sketching Rambles in Holland (1885). Both designs were in the 2000 Grolier Club show.




Above: The woods are as compelling a subject as the sea, and Will Bradley might be credited with the first use of this motif, inspired by seeing an autumn hillside and silver sky through the trees while under commission from Stone and Kimball to design In Russet and Silver (1894), Above it is Amy Sacker's 1902 design for The Kindred of the Wild. To the left is the unsigned 1903 binding on Hesper, and to the right a gold crescent moon and stars seen through evening woods on the unsigned 1907 cover of God's Calendar.

Below: Water is a seductive design motif. On Board the Mary Sands silhouettes a sailboat in the moonlight, an Adrian Iorio design from 1911. Love and Rocks is a very advanced 1898 design from the Boston publisher Estes and Lauriat. This sort of use of flat light color and gold became popular in the Art Deco era a generation later. The Tides of Barnegat is a1906 example of Frank Berkeley Smith's work. The exhibition has a wide variety of his designs, and other designers' use of the "landscape at the top of the cover."





Above: The "Spell" series featured gold and color stamped landscapes of the subject places, this one being the 1909 volume on Italy. Next to it is a 1921 Decorative Designers binding using textured dies to create two tones of gold on Faery Lands of the South Seas. Behind it in the case (not seen in the photo) is another copy, with the same design printed in yellow and black.





Left and below: The cabinet features works by Sarah Wyman Whitman, Alice Cordelia Morse, Margaret Armstrong, George Wharton Edwards, Bertha Stuart, Will Jenkins, and Henry Thayer.




Below: The left case shows three beautiful Margaret Armstrong designs. The right one shows Armstrong, William Dana Orcutt, F.C. Gordon's great 1901 design for Among The Pond People, and a beautiful unsigned 1907 binding on Miyakawa's Life of Japan.

Below: The top shelf features bindings with a Japanese influence. Below that is the gorgeous Bertha Stuart binding on Tennyson's The Princess, And the deluxe Brentano's edition of The First Violin.
The Deluxe, Limited Edition and CD-ROM versions of the exhibition catalog may now be ordered online. Click here for details, and to see more pictures of the books.

View the current exhibition in the gallery.
The gallery is open by appointment near Hudson, NY. Please contact us if you would like to visit, or if you are looking for works not listed. There are many more items here than we have time to list, and we also may be able to locate other items that would interest you.

---
To continue the exhibition, click one of the sections or a button
Each section has several thumbnail images and descriptions of the works. You can click on any image for a page about that work, with larger pictures and details.
---





© 1997-2005 Richard Minsky. All rights reserved.
No photos, descriptions or text on this page may be used without written permission.