. . . and from Graphic Novel to Video Game
Jacque Quijote is the avatar of artist Philip Mallory Jones in the Second Life® virtual world. We selected the work of Jacque Quijote In the Sweet Bye & Bye as a "Pick of the Week" in May, 2007, and featured this work in our 2007 print monograph, The Second Life Art World.
Five years later we ran a feature here about his change of platform for his work Bronzeville Etudes & Riffs from Second Life to Unity 3(D), with an interview about why he made the changes.
The artist has now issued a series of fine art prints titled Bronzeville Moods, derived from the virtual creation, and is preparing a video game, Dateline: Bronzeville, for release by Alchemy Media Publishing in 2017. It debuts in an exhibition opening in Chicago September 30, 2016, organized by Video Game Art (VGA) Gallery and the Rebuild Foundation. Mr. Jones will present an artist talk at the opening reception. The exhibition runs through December 18. Details about the exhibition are here.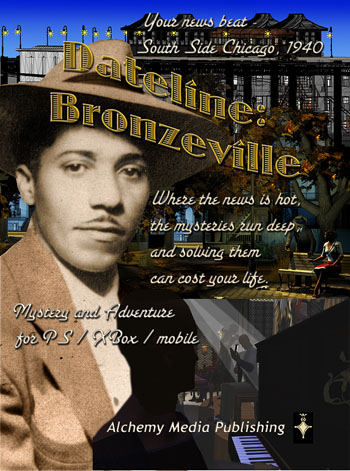 Below: a scene in the speakeasy.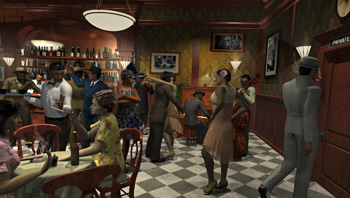 Mr. Jones writes:
The Bronzeville Series, a collection of fine art prints on canvas and archival art paper, is an outgrowth of my development of the computer game, Dateline: Bronzeville. Set in the South Side Chicago neighborhood of Bronzeville, circa 1940, Dateline: Bronzeville is a first-person mystery, with the Player assuming the role of a seasoned photojournalist for an African American newspaper. The game is being developed in Unity 3D, for consoles, web, and VR. The world of Dateline: Bronzeville originates in the 3D modeling environment Cararra 3D, and The Bronzeville Series prints are renders of scene views. The genesis of this work was the photo-collage/text book Lissen Here!, which I made with my mother, Dorothy Mallory Jones, in 2004. Those story and image ideas were next transposed and transformed into the immersive installation environment Bronzeville Etudes & Riffs, in Second Life (2010). As SL became too constrictive and expensive, and my intentions and vision expanded, the project migrated to the more capable and accessible modes afforded by Cararra and Unity.
Since the prints were created digitally, the artist is producing them to order as limited editions on canvas and paper in several sizes. The paper prints are printed on Museo Silver Rag Archival Lustre Photo Paper 300 gsm using a Canon IPF 8400 and 8300 uwith Canon Lucia EX inks. The canvas prints are on Breathing Color's TM Chromata LYVE canvas, using a Canon IPF 9000.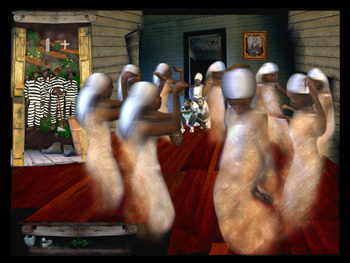 Philip Mallory Jones
Dance for Absent Partners



===

Free ArtWorld Market Report Download:
The Art World Market of Second Life® (PDF)
Paper on the Business of Art in SL
presented at SLCC August 25, 2007
Over 25,000 downloads of this paper since then.