Section E


Holy Terror
(The Fundamentalist War on America's Freedoms in Politics, Religion and Our Private Lives) by Flo Conway and Jim Siegelman. Doubleday, 1982
Bound by Minsky 1988
9" x 6"
Black Nigerian goat and Hewit calf, gold and metal foil stamped.
Case binding.
"Minsky 88" in pencil, inside back cover


Holy Terror
(Inside the World of Islamic Terrorism) by Amir Taheri.
Adler & Adler, 1987
Bound by Minsky 1990
9" x 6" x 1"
Quarter leather, gold stamped spine, lacquered acrylic on boards, flyleaf of foil stamped vellum
"MINSKY" in gold, inside back cover



Holy Terror
(Andy Warhol Close Up) by Bob Colacello. HarperCollins, 1990.
Bound by Minsky 1990
9" x 6"
Acrylic and diamonds over ink-jet on canvas.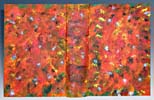 The Limits of Art
Poetry and Prose chosen by ancient and modern critics
Collected and Edited by Huntington Cairns
Bollingen Serues XII, Pantheon Books, 1948
Bound by Minsky 1990
9¼" x 6¾"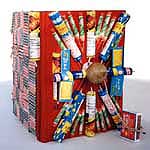 Fireworks: A History and Celebration
by George Plimpton.
Doubleday & Co., 1984
Bound by Minsky 1992
10" x 7" x 2"
Acrylic paint and live fireworks with hurricane matches.


Chateau Guest Book, Normandy, France
Blank book of various vintage handmade papers and sheepskin parchment.
Bound by Minsky 1994
20" x 16"
Green Hewit calf with inlaid panels of lacquered acrylic and gold leaf on Rives BFK. Lost wax cast Vermeil hardware includes central medallion filled with couleurs vitrail, bosses and clasps with heraldic emblems, and strapwork corners. Click the link to access four photos and the details of its interesting construction.

---
To continue the exhibition, click one of the sections or a button.
Each section has several thumbnail images and descriptions of the works. You can click on any image for a page about that work, with larger pictures and details.
---