Section F


Travelogue
Painted by Minsky 1986
1974 Oldsmobile 98 Regency automobile with 455 Rocket V-8 engine, lacquer. The car included a blank "log book" of inlaid leather with a similar design.



Blank Book
Bound by Minsky 1985
10 x 7 x 1½
Nigerian goatskin with flush inlay panels of same. Sewn on 5 raised cords with hollow back construction. Silk endbands, linen hinges. Head and tail edges watercolor, beeswaxed.
"MINSKY 85" in gold, inside back cover


Seventy Studies
Original paintings by Richard Minsky, 1985
2 7/8 x 2 3/8 x 5/8
Letterpress title page, watercolor and acrylic paintings with gold leaf on paper. Flat-back case binding. Lacquered acrylic on bookcloth. You can also look at some finished bindings related to these studies.



Chemistry in Warfare
Bound by Minsky 1993
8" x 5" x 4"
This copy of the book is from the library of the U.S. Army base in Grenada. Purchased at the Pageant Book Shop, New York. Binding painted camouflage style in acrylics, with matching gas mask and container with toxic ordinance label, printed by ink jet.


The Eye
by Roanna Martin-Trigona, a Tod Michael Volpe production, 1994
Designed, printed and bound by Minsky, 1994
The story of Salvador Dali's painting "The Eye," which was the basis of the dream sequence in Alfred Hitchcock's movie, "Spellbound." Printed inkjet on Dieu Donne handmade paper, mounted movie stills and other historical photos, magazine clippings, etc. Binding of blue calf with inset artificial eye , title stamped in 23K gold from magnesium die of type designed in CorelDraw.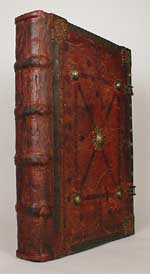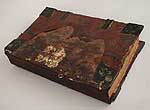 Boxes made from 15th-16th century book covers
Recycled early book covers are used on these two boxes. Made in October, 2000.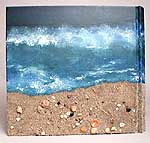 The Hamptons
by Susan P. Meisel and Ellen Harris
Harry N. Abrams, Inc. 2000
Bound by Minsky 2000
10½" x 10"
Acrylic, sand and shells from the Hamptons


Nineteen Eighty-Four
by George Orwell
Harcourt, Brace & Company, New York 1949
Binding by Minsky 2003
6" x 8½" x 3"
Lizard-grained cowhide, hologram foil stamped title. LCD monitor embedded in cover with miniature black and white video camera hidden behind leather with 1/8" hole for lens. When you hold the book you see yourself on the screen.


Francis of Assissi: Early Documents
New City Press, New York, London, Manila, 2000
Bound by Minsky 2004
Four Volumes 9" x 6"
Issued as paperbacks, rebound in full goatskin with three edge yaps over thin boards. Edges in 22K gold leaf over Armenian bole. Foil stamped title on spine, Cross of St. Damian on front cover, St. Francis on back cover with owner's name. Different marbled papers are used in each volume, and different colored ribbons. The volume number is blind stamped near the tail of the spine. Four other volumes are bound similarly: two Holy Bibles, a Catechism and Lives of Saints and a book of Prayers, Verses and Devotions.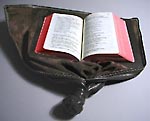 The Liturgy of the Hours
Catholic Book Publishing Co.
New York, 1976
and
Proper Offices of Franciscan Saints
English-Speaking Conference of the Orders of Friars Minor
New York, 1976
Bound by Minsky 2004
17" x 5½" x 2½"
Two volumes in one girdle book sleeve based on several historical models, made for daily use by a Franciscan Friar. Blind stamped on the exterior with images of the Cross of San Damiano, St. Francis, and the Arms of the Order of St. Francis, and on the interior flaps with typographic abbreviations. Interior flaps also incorporate a prayer card and an image of Our Lady of Guadalupe. The books are removable, as each season requires a change of both volumes.


Box for The Odyssey of Homer
(the 1932 limited edition designed by Bruce Rogers)
Constructed by Minsky 2005
12 5/8" x 9 3/8" x 2 1/8"
Lacquered black cloth, 23K gold stamped labels in Centaur type (the book is set in Centaur), red leather for the title, black leather for the date, lined with gray felt.
---
To continue the exhibition, click one of the sections or a button.
Each section has several thumbnail images and descriptions of the works. You can click on any image for a page about that work, with larger pictures and details.
---