Section A

The Book
by Douglas C. McMurtrie. Covici-Friede, New York 1937
Bound by Minsky 1968
10" x 8"
Brown Oasis Nigerian goatskin, gold tooling, silk endbands, marbled endsheets by the artist, goatskin hinges.


The Georgics of Virgil
Cheshire House, 1931
Bound by Minsky 1969
14" x 9"
Hewit's fair calf with onlays of Oasis Nigerian goat, gold and blind tooling. Sewn on 5 raised cords. Swedish marbled endsheets. Calf hinges.
"MINSKY" in gold, inside front cover, "1969" in gold, inside back cover


Blank Book
Bound by Minsky 1971
9¼" x 6¾"
Goatskin shavings on reverse Oasis goat in Oasis goat drop-back box
Endpapers hand-marbled by Minsky


Pettigrew's History of Egyptian Mummies
London, 1834
Bound by Minsky 1973
12" x 9"
Linen, turquoise.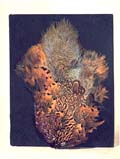 The Birds of North America
by J. J. Studer. 1888
Bound by Minsky 1975
14" x 11"
Reverse Calf with salted Pheasant skin sewn onto front cover with linen thread; doublures of reverse Nigerian Goatskin, handpainted flyleaves; cord image under spine leather. In 1975 this book was the center of a major controversy at a Guild of BookWorkers exhibit in New Haven. You might enjoy the story of this book's trip to Yale. Click the picture.


The Dog Bite
by Barton Lidicé Benes. Plain Wrapper Press, New York, 1970
Bound by Minsky 1977
13" x 11" x 2"
Skin of unknown origin, endsheets of Amatyl bark paper
"Binding by Richard Minsky 1977" in pencil, inside back endsheet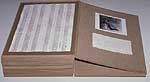 North American Hand Papermaking 1976
by Richard Minsky, 1976
19" x 25"
Two volumes accordion style with box-frame pages, containing the work of 31 hand papermakers. Each two page spread includes a work, a photo, and a statement by the artist/papermaker.Each volume expands to 51 feet in length.


Babel
by Patti Smith
Bound by Minsky 1979
9" x 6"
Alum tawed ratskin, sumac tanned goatskin (both leathers made by the artist), safety pins, foil stamped title. Endsheets rubber stamped safety pin motif by Barton Lidicé Benes. Black suede box with padded satin lining.
"Bound by Minsky 1979" in pencil, inside back cover
---
To continue the exhibition, click one of the sections or a button.
Each section has several thumbnail images and descriptions of the works. You can click on any image for a page about that work, with larger pictures and details.
---