Ceiling murals and faux finishes for bar room.
Above: Installation views. Click on any picture for a larger set.
Below: There are eight ceiling panels, each with a life-size figure. Six are reproduced here. Barbara Slate drew and colored the original maquettes, and Richard Minsky executed the paintings in oil on Belgian linen with gold and white gold leaf. The paintings were done in the Minsky studio on Bleecker Street in New York and shipped to France, where they were installed by an expert marrouflage technician. Click on any picture to see larger full views and details.
Detail of ceiling mural for shower.
Oil on linen canvas.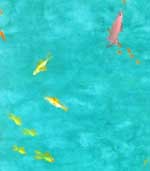 The feeling when you look up at the ceiling is that you are under water looking toward the surface, with its interplay of light and shadow. Fish are swimming in all directions. The painting was done by Minsky in a studio on the grounds of the Chateau while the ceiling to the left was being installed.
Click on the picture to see the full view.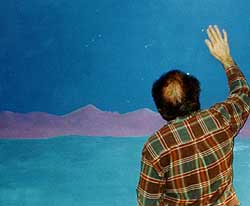 Minsky at work on mural in massage room.
The scene goes around all the walls, and creates the feeling of floating on a lake surrounded by mountains at dusk.The stars are gold leaf.
Click the picture for a larger view.

Guest Book for the Château
Blank book of various vintage handmade papers and sheepskin parchment. Bound by Minsky 1994
20" x 16"
Click on the picture to see several views and details of this guest book, with information about how it was made.
Faux marble column tops & bases.
Acrylic and polyurethane on wood.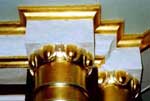 The bases are interpreted from green marble in the floor pattern, and above the column caps and along the ceiling molding is faux white marble.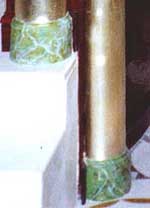 Click on either photo to see a page with larger views of the faux finishes.