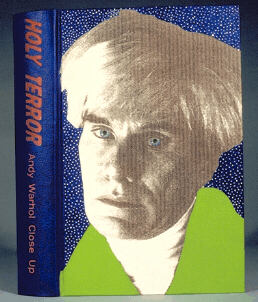 Holy Terror
(Andy Warhol Close Up)
by Bob Colacello. HarperCollins, 1990.
Bound by Minsky 1990
9" x 6"
Acrylic and diamonds over ink-jet on canvas.
At the end Andy said, "Diamonds are better than art."
Read about this binding in Rose Slivka's Review.

---
To continue the exhibition, click one of the sections or a button.
Each section has several thumbnail images and descriptions of the works. You can click on any image for a page about that work, with larger pictures and details.
---