Above: A corner of the Exhibition.
In the snakeskin cabinet is The Bill of Rights edition (2002) by Richard Minsky.
In the Plexiglas case is Hedi Kyle's Karussell (1993).
Below it is Kaleidoscope by Marilyn R. Rosenberg (1983).
On the foreground pedestal is Stephanie Brody Lederman's A Snake in the Grass (1990).

Below are some of the other book art works in this exhibition (click on any photo for a larger image):

1. Hedi Kyle. April Diary. 1979. Unique. 10¼" x 5½" (cover size).
Paper, binder's board, ink, watercolor.

This is the original work of the form that has become known as the "Flag Book." It is the first appearance of the most influential structure in the world of contemporary bookmaking. This method of construction, employing tipped on page fragments on alternating sides of a concertina structure, has been adopted by hundreds, if not thousands of artists for the creation of unique or multiple bookworks.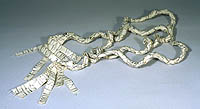 2. Barton Lidicé Beneš. Family Secrets. 1982. Unique. 50" l.
Rubber stamps on cloth tape.

Barton Lidicé Beneš is one of the progenitors of the contemporary Book Art movement. In the early 1970's his sculptural bookworks were shown at the Allan Stone Gallery in New York City. Many of his concepts have been used by later artists, such as his 1973 Censored Book, which was bound in rope, nailed shut, gessoed and painted. His series Letters From My Aunt Evelyn spanned a decade, and included works in many forms and media. Family Secrets was made after he went to a funeral and was told things he had to promise not to reveal. His obsession with making book art out of every story drove him to create this work, which solved the problem by printing the secrets on strips of cloth tape and braiding them together. He simultaneously tells the secrets and hides them.
3. Hedi Kyle. Karussell. 1993. 12" h x 11" diam.
Printed papers, dyed thread, machine sewing, folded handmade paper extensions. Roundabout construction.
4. Douglass Morse Howell. No. 11. Handmade paper. Linen and flax. Unique, 1974. 11" x 13". Framed by the artist: sewn to linen backing.
6. Pamela Spitzmueller. Preserved Book Series #2, Aridity. Unique. 1985. Handmade book in mason jar with sand. 4" h x 4" diam.
7. Stella Waitzkin. Unique resin sculpture. 1990. 4" x"4" x 6"
8. Stephanie Brody Lederman. A Snake in the Grass. 1990. 9¾" x 10¼" 8½"
Wood, painted table legs, Astroturf, paint, ink and collage on paper.

9. Marilyn R. Rosenberg. Kaleidoscope. 1983. Multidirectional accordion fold structure, offset printed, Curtis rag paper, die cut, hand trimmed, with reflective Mylar. Edition of 250.

View the current exhibition in the gallery.
The gallery is open by appointment near Hudson, NY. Please contact us if you would like to visit, or if you are looking for works not listed. There are many more items here than we have time to list, and we also may be able to locate other items that would interest you.