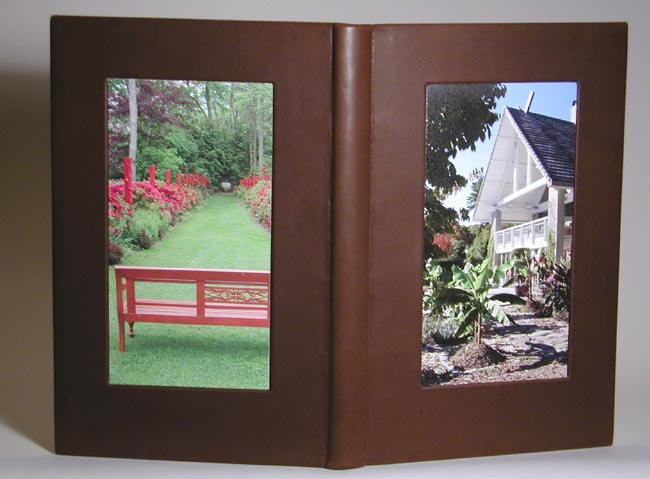 Guest Book, LongHouse Reserve
Bound by Minsky 2005
16" x 11"
Cover Panel Photographs by Matko Tomicic
Printed by Richard Minsky
Tovil handmade paper ( Barcham Green & Company Ltd., Hayle mill, Kent, England, 1980). Hewit calf (Scotland). Hand sewn with flax thread made in Lisburn, Northern Ireland. The headbands are hand woven over a laminated core of vellum and alum tawed pigskin, using the same type of thread in a heavier weight. Photo images printed on Epson Watercolor paper with an Epson Stylus Photo 2000P archival printer, coated with Krylon UV Filter Acrylic. The cover images have a second coat of UV Filter, with a final coat of lacquer.
Below, the front endpapers, from a photo by Matko Tomicic, printed by Richard Minsky

Below, enlarged detail of the hand sewn headband and leather hinge

Below: The title page.

Click here to see more guest books and blank books.

---

To continue the exhibition, click one of the sections below or a button.
Each section has several thumbnail images and descriptions of the works. You can click on any image for a page about that work, with larger pictures and details.
---