Above: Installation at the San Francisco Museum of Modern Art, 1978. Detail.

North American Hand Papermaking 1976
by Richard Minsky, 1976
Two volumes accordion style with box-frame pages, containing the work of 31 hand papermakers. Each two page spread includes a work, a photo, and a statement by the artist/papermaker. Each "page" is 19" x 25" and each volume expands to 51 feet in length. The construction is of airplane linen over museum board. The above installation view was in an octagonal room with 7 walls and a door. The two volumes occupied the 7 walls, one volume over the other, so when you entered the room you were inside the book.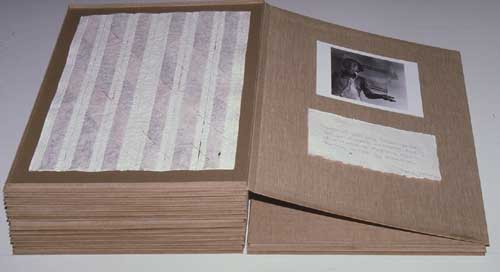 The book can also be opened one page at a time. Above: Work by Nancy Genn
To continue the exhibition, click one of the sections or a button.
Each section has several thumbnail images and descriptions of the works. You can click on any image for a page about that work, with larger pictures and details.
---