Francis of Assisi: Early Documents
New City Press, New York, London, Manila, 2000
Bound by Minsky 2004
Four Volumes 9" x 6"

Issued as paperbacks, rebound in full goatskin with three edge yapps over thin boards. Edges in 22K gold leaf over Armenian bole. Foil stamped title on spine, Cross of San Damiano on front cover, St. Francis on back cover with owner's name. Different marbled papers are used in each volume, and different colored ribbons. The volume number is blind stamped near the tail of the spine. Five other volumes are bound similarly: two Holy Bibles, a Catechism, Lives of Saints and a book of Prayers.


Above: Back cover of volume II
Note the leather folded over the edges of the book beyond the cover.


Above: Detail of the headcap (vol. I). Although this is a
case binding, it has a traditionally formed headcap.


Above: Corner details (l. vol. II, r. vol. III).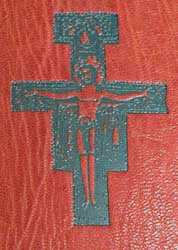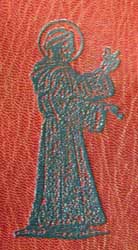 Above: Details of foil stamped images.
They were created in Photoshop based on scans of old
pictures, selectively enhanced and converted to line images.
A matte charcoal foil was used, and the lighting in the photos
above was angled to show the reflectivity of the foil.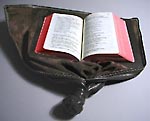 Click on the picture above to see a girdle book that incorporates the same stamped images,
made to be worn hanging from a belt and used for daily prayers.

---
To continue the exhibition, click one of the sections or a button.
Each section has several thumbnail images and descriptions of the works. You can click on any image for a page about that work, with larger pictures and details.
---