Wedding Guest Book
Bound by Minsky 2016
10" x 12"
Alum tawed goat, recessed panel by of semi-aluminum tanned calf inlaid with goatskin and abalone shell, stamped and tooled in 23K gold.
The bride and groom suggested an astronomical motif. Both have first names that begin with "A" and they provided artwork for an "AA" logo that was used for the wedding invitation. A copper hot-stamping die was made from the logo by Owosso Graphic Arts, photoengravers in Michigan.

The basis of the cover panel is the "Big Dipper," one of the most familiar celestial markers, part of the constellation Ursa Major. It has been used for millenia by explorers because the front two stars in the "bucket," Merak and Dubhe, point to Polaris, the Noth Star, which is the end of the handle in the "Little Dipper" in the constellation Ursa Minor. The design began with a tracing of the positions of the brightest stars in these constellations, and choosing brass tools for dots in sizes that represent the relative magnitudes of the stars.

The letters AA are are like two spaceships traveling together through the universe. They start from a familiar place, gold in the bucket of the big dipper. The star chart is a metaphor for the newlyweds to navigate together through the vastness of the unknown. There are many distractions and destinations, represented by three stylized stars in abalone shell and three planets in goatskin. The materials of the cover are from the animal and mineral kingdoms, with the vegetable kingdom represented by the binders' board that is under the skin, the flour paste that attaches the skin to the board, the linen thread and tapes the book is sewn with, and the 100% cotton Rives BFK paper of the book. The three kingdoms work together, and if properly cared for the book can last a thousand years or more.

The triangles made by the planets and stars intersect, and are in illusionistic deep space. When imagined in three dimensions, there is a place where the configuration can be viewed as a Mogein Dovid (Magen David), the Star (Shield) of David, a symbol of Jewish identity.

Because of the way the abalone reflects light and color, and the tooling of the dots at different angles, the cover elements light up in changing ways depending on the viewing angle and light source.

Endpapers were created by combining NASA images of galaxies and nebulae in Photoshop, printing the composite on an Epson R1900 in Ultrachrome II archival pigment inks, and spraying the image with two coats of lacquer, with the topcoat satin finish. The hinges are bookcloth.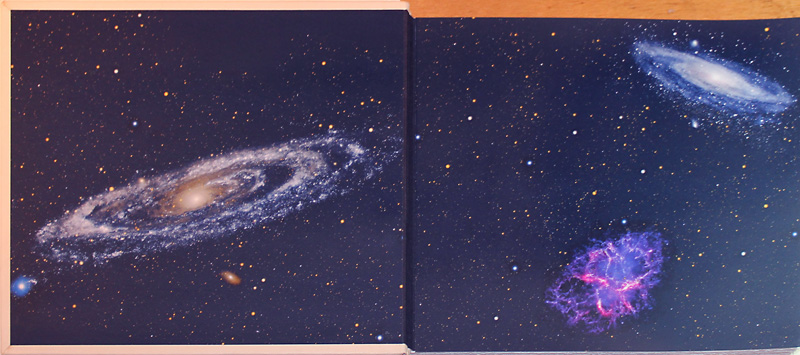 Endpapers. Above: front. Below: back

An album of photos showing the process of binding this book is here.
Click here to see more guest books and blank books.
---
To continue the exhibition, click one of the sections or a button