The United States Constitution Series
The Bill of Rights
limited edition set


An Edition of 25 Copies of a Set of Ten Works by Richard Minsky
The Fourth Amendment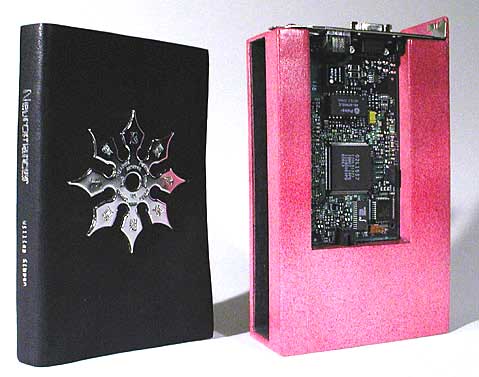 The right of the people to be secure in their persons, houses, papers, and effects, against unreasonable searches and seizures, shall not be violated, and no warrants shall issue, but upon probable cause, supported by oath or affirmation, and particularly describing the place to be searched, and the persons or things to be seized.
Issued March 13, 2002

The Fourth Amendment

Neuromancer
by William Gibson

The novel that introduced us to Cyberspace. Every day there are more issues about government searches of our emails, web habits, and hard drives. You can read about the implications at The Electronic Frontier Foundation.

The book was originally issued as a paperback in 1984 and received major awards for science fiction writing. The binding is in limp black leather, to preserve the soft feel of the paperback. A shuriken (Ninja throwing star) is on the cover, and is an image that appears throughout the text.

The pink slipcase has the text of the fourth amendment hot-stamped in hologram foil on one side. The hologram makes the text appear as colored digital code from a distance, and certain angles.

On the other side of the case (Case is also the name of the protagonist) is an embedded Network Interface Card. In the novel, Case jacks into the cyberspace network through a neural interface.


Return to The Bill of Rights limited edition set

The Bill of Rights edition is in the permanent collections of
Yale University Arts of the Book Collection
The Art Institute of Chicago Ryerson & Burnham Libraries
Click the links above to make an appointment to view this work.

Read the review in The New York Times

Click here to schedule an exhibition
---
To continue the exhibition, click one of the sections or a button
Each section has several thumbnail images and descriptions of the works. You can click on any image for a page about that work, with larger pictures and details.
---







©2001 Richard Minsky