The Gallery Archive
The Second Exhibition of
American Decorated Publishers' Bindings 1872-1929
Exhibition ended November 20, 2008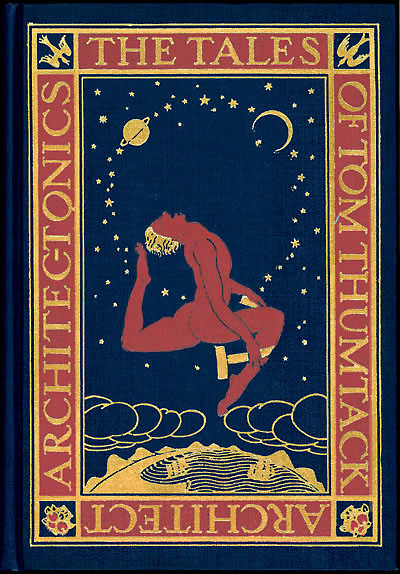 Architec-tonics : The Tales of Tom Thumtack Architect
by Frederick Squires, illustrations and cover design by Rockwell Kent
New York: The William T. Comstock Company, 1914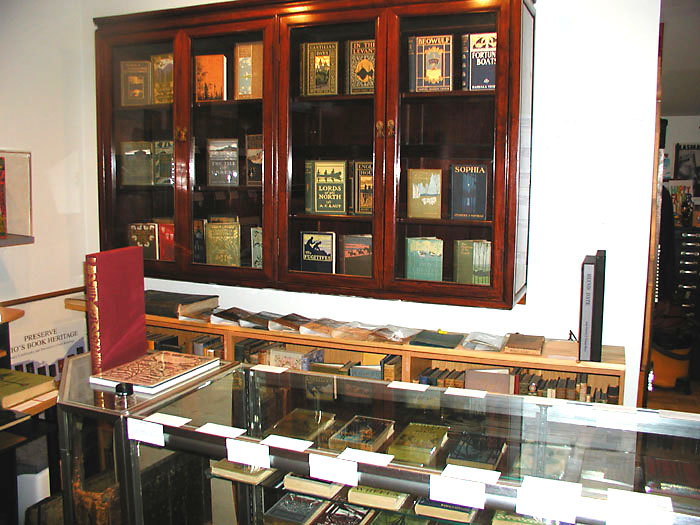 On the bookcase under the wall cabinet (filled with T. W. Ball designs) is a selection of dust jackets.

Thank you for visiting the online gallery. Our second exhibition featuring the Golden Age of publishers' bindings ended November 20, 2008. This entire collection was acquired by The Lilly Library, Indiana University, Bloomington. The fully illustrated catalog of this exhibition is now available.
The previous exhibition ended in August 2005, and that entire collection was acquired by the University of Alabama. A beautiful and comprehensive illustrated catalog was produced that included high resolution images of all 500 designs in the collection plus many variants, as well as bibliographic information. Essays by Richard Minsky on the aesthetic and historical aspects of this art form provide several methodologies for collecting these works, and demonstrate that artists were doing work on book covers that was prototypical of art movements that arose decades later.
The Deluxe, Limited Edition and CD-ROM versions of the first exhibition catalog may now be ordered online.
Subscriptions to the catalog of the second exhibition are now available.

The Second Exhibition of
American Decorated Publishers' Bindings, 1872-1929

Thomas Watson Ball
James, Henry. English Hours. Illustrated by Joseph Pennell
Boston and New York: Houghton, Mifflin and Company, 1905
This exhibition features two dozen designs by T. W. Ball

The Second Exhibition presents 300 designs by 58 artists, 27 of whom were not in the previous exhibition. It is notable for the beautiful condition of the examples shown, as well as the presentation of many designs you may not have seen before.

The cover artists include the following (artists not in the previous collection are teal)
Margaret Armstrong
Thomas Watson Ball
Franklin Booth
Alfred Brennan
Bert Cassidy
Jay Chambers
Evelyn W. Clark
Mary Cowles Clark
Thomas Maitland Cleland
R. Weir Crouch
The Decorative Designers
Maynard Dixon
H. T. Dunn
Eaton, Mary E.
George Wharton Edwards
A. B. Frost
Charles Buckles Falls
Julia Furbush
Alice R. Glenny

Bertram Grosvenor Goodhue
Frederick W. Gookin
Alberta Hall
C. Bertram Hartman
George Hawley Hallowell
Theodore Brown Hapgood
C. Bertram Hartman
Frank Hazenplug
A. Hilgenreiner
H. O. Hofman
Edward Stratton Holloway
Robert Wilson Hyde
Wilfred Jones
William James Jordan
Rockwell Kent
Albert Levering
Harold Magonigle
Blanche McManus Mansfield
Ellen Miller
Alice C. Morse
Peter Newell
Samuel M. Palmer
Marion L. Peabody
Edward Penfield
Louis John Rhead
Amy RIchards
Rome K. Richardson
Rachel Robinson
Amy Sacker
Rudolph Schaeffer
John Sloan
Frank Berkeley Smith
Maud Hunt Squire
Bertha Stuart
Lee Thayer
Otto Taospern
Lynd Ward
Stanford White
Sarah Wyman Whitman
Please note: I welcome comments and corrections on any of the captions or catalog information! Click on contact to send me a message.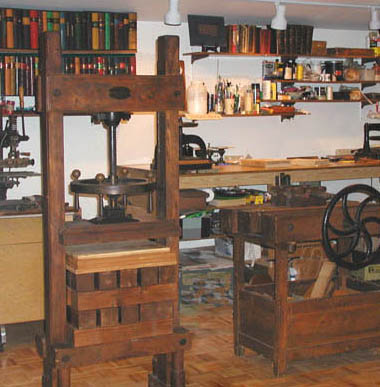 Right: In the bindery
a Bertrand Frères percussion press is on the left,
next to a lying press and plough.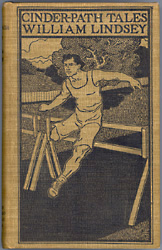 Left: This 1896 cover by
John Sloan is particularly well known because it was used on a poster that has become one of the most collected and reproduced images of the period. On the poster, the runner's outfit is white.

Below: This cabinet features works by Thomas Watson Ball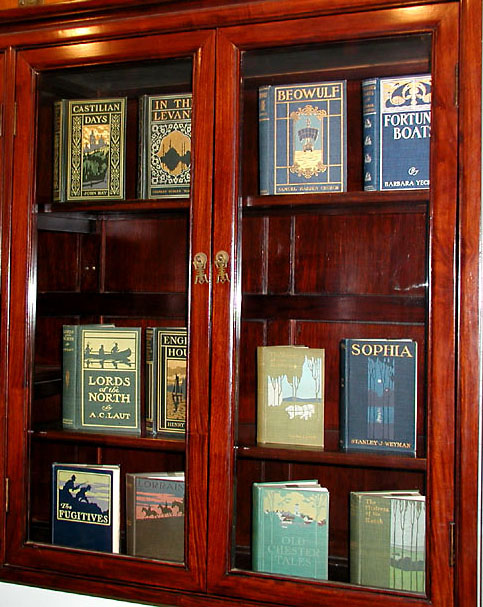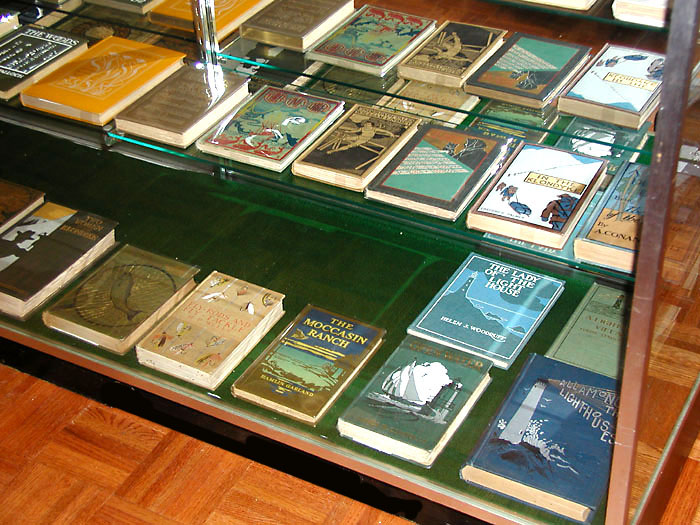 This display case includes works by Bertha Stuart, John Sloan, Bert Cassidy, E. S. Holloway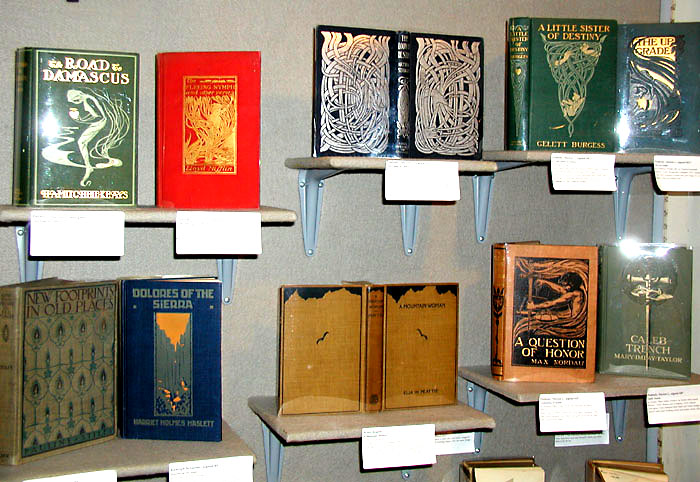 Marion L. Peabody, Rudolph Schaeffer and Bruce Rogers

The Deluxe, Limited Edition and CD-ROM versions of the 2005 exhibition catalog,
and pre-publication subscriptions to the catalog of this exhibition, may now be ordered online.
Exhibition Archive:
American Decorated Publishers' Bindings 1872-1929 (ended August 2005)
30 Years of Book Art: 1974-2003 (ended July, 2007)
---
To continue the exhibition, click one of the sections or a button
Each section has several thumbnail images and descriptions of the works. You can click on any image for a page about that work, with larger pictures and details.
---





© 1997-2008 Richard Minsky. All rights reserved.
No photos, descriptions or text on this page may be used without written permission.