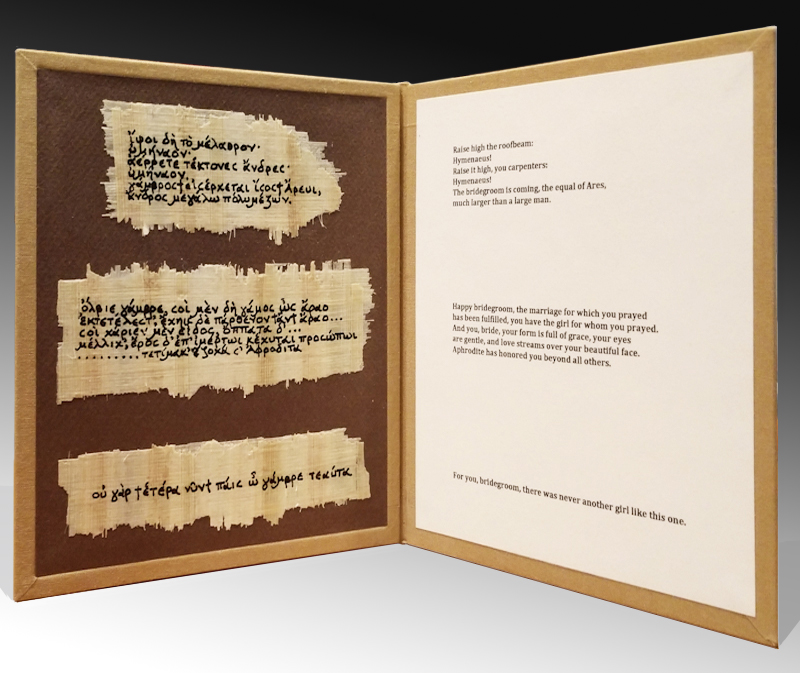 Sappho Wedding Fragments Diptych
Printed and bound by Minsky 2019
7" x 5"
Archival pigment inkjet on papyrus and paper, bookcloth.
A first wedding anniversary gift from Robert Ball, Professor Emeritus of Classics, University of Hawaii, to Emily Smith Guttenberg and actor Steve Guttenberg. Prof. Ball recited the Sappho fragments at their wedding in English translation. The diptych features his reproduction of the original Greek fragments, printed on papyrus, with his translations of the fragments on the facing panel, printed on Rives paper.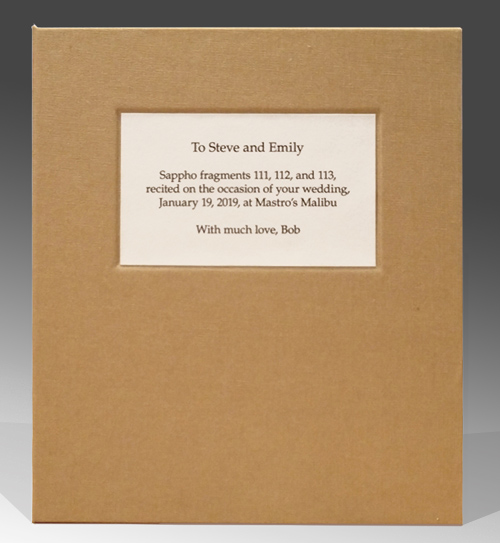 See another Minsky project featuring Sappho, on a novel by Erica Jong:


Sappho's Leap
A Novel
by Erica Jong
Norton, 2003
Bound by Minsky 2003
12" x 7" diameter
Bound as a scroll. Papyrus endpaper printed inkjet with reproduction of Sappho text from early scroll fragment. Wood endcaps with oil base stain, 23K gold leaf, polyurethane and lacquer. Inset brass bushing for cedar scroll handle, which is contained in scroll center under removable endcap. Wood base with, stain, polyurethane and lacquer. Scroll cover is lacquered inkjet adapted from Greek Krater image of Alcaeus and Sappho.
Click here to see guest books and blank books.
---
To continue the exhibition, click one of the sections or a button