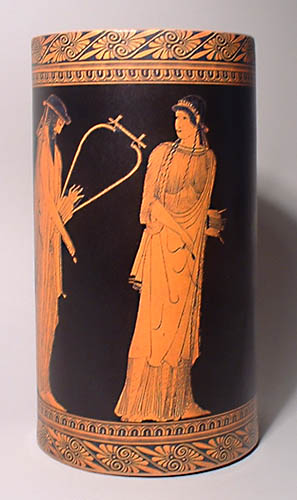 Sappho's Leap
A Novel
by Erica Jong
Norton, 2003
Bound by Minsky 2003
12" x 7" diameter
Bound as a scroll. Papyrus endpaper printed inkjet with reproduction of Sappho text from early scroll fragment. Wood endcaps with oil base stain, 23K gold leaf, polyurethane and lacquer. Inset brass bushing for cedar scroll handle, which is contained in scroll center under removable endcap. Scroll cover is lacquered inkjet adapted from Greek Krater image of Alcaeus and Sappho.
Greek scrolls generally were vertical scrolling, but this scrolls horizontally in keeping with the page format of the printed book. The title page is at the end, rather than the beginning of the scroll. This was the ancient tradition, to keep the title at the most protected part of the scroll.
Click on any image below for larger pictures.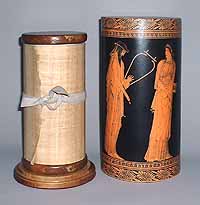 Upon removing the cover, a papyrus scroll is seen.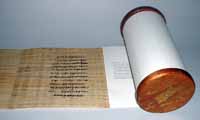 The papyrus with Sappho's text from a 2,300 year old fragment.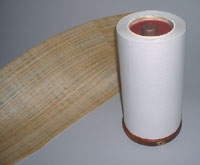 A handle for the scroll is contained under the endcap.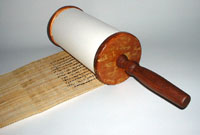 The cedar handle screws into a brass bushing in the bottom endcap.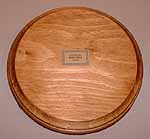 The Minsky label is on the base.

Other bindings by Minsky on books by Erica Jong:

Becoming Light. Bound by Minsky 1991
Inventing Memory: Bound by Minsky 1998
Any Woman's Blues Bound by Minsky 2000
Fear of Flying and Fear of Dying Bound by Minsky 2018

click on the links or photos to go to these pages.

You may also want to visit Erica Jong's Website







See a Minsky project featuring Sappho wedding fragments, on a diptych made as an anniversary gift:

---
To continue the exhibition, click one of the sections or a button