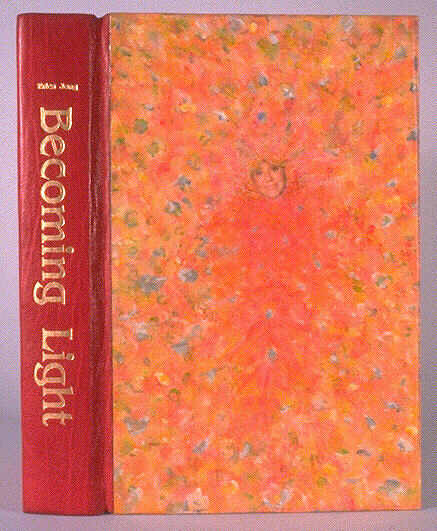 Becoming Light
by Erica Jong

HarperCollinsPublishers, 1991
Bound by Minsky 1992
Book is 9.5" x 6.5"
Slipcase which includes book and typescript is 12" x 9" x 4"

Binding includes back cover and spine in Nigerian goatskin, with a 23k gold stamped title. The front cover is a lacquered panel of acrylic over a photo of the author. The binding has a paper chemise which slides into a velvet lined double slipcase. The original typescript is in the other side of the slipcase, in a folder with Velcro closures. The inside of that part of the slipcase is paper lined, and has recesses for the flaps of the folder.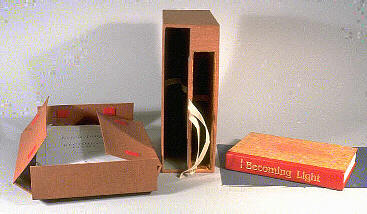 Note the linen tapes coming through the edge of the slipcase between the two openings. Pulling a tape advances the book or typescript from the case so the material may be removed from the case without removing the case from the shelf. This keeps the other books on the shelf from falling. Unlike ordinary tapes, these move through channels inside the boards, so when the book is removed the tape does not fall down, but remains in position ready to receive the book. Replacing the book in the slipcase pulls the tape back into the edge of the board.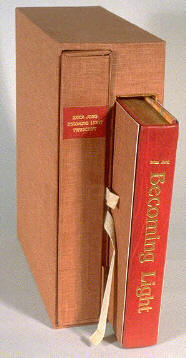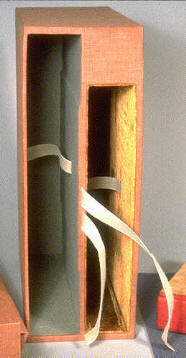 Other bindings by Minsky on books by Erica Jong:

Inventing Memory: Bound by Minsky 1998
Any Woman's Blues Bound by Minsky 2000
Sappho's Leap Bound by Minsky 2003
Fear of Flying and Fear of Dying Bound by Minsky 2018

click on the links or photos to go to these pages.

You may also want to visit Erica Jong's Website







---
To continue the exhibition, click one of the sections or a button