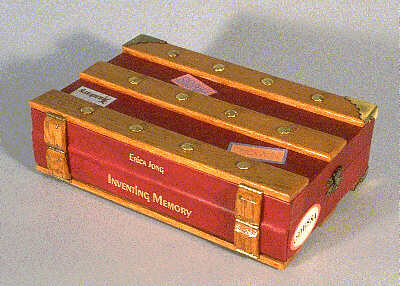 Inventing Memory
A Novel of Mothers and Daughters
by Erica Jong

HarperCollinsPublishers, 1997
Bound by Minsky 1998
9.5" x 6.5" x 1.5"

Calf dyed by Minsky, gold stamping, oak, brass hardware, wallpaper endsheets, inkjet photomontage and labels. Edges of Armenian Bole and gold leaf. Note the hinged oak straps across the spine. This binding is created to give the feeling of a steamer trunk, with destination labels relating to the travels of the four generations of women in the novel. It is a binding, however, and not a box. The text is integral to the structure, as can be seen in the detail photos.

Before creating the above version, a prototype was made in varnished buckram and mahogany, without the photomontage, and just the thickness of the text. You can click on the image to see an enlarged version with details.

There is a page with enlarged details of different parts of this binding, as seen in these small pictures.

Other bindings by Minsky on books by Erica Jong:

Becoming Light. Bound by Minsky 1991
Any Woman's Blues Bound by Minsky 2000
Sappho's Leap Bound by Minsky 2003
Fear of Flying and Fear of Dying Bound by Minsky 2018

click on the links or photos to go to these pages.

You may also want to visit Erica Jong's Website







---
To continue the exhibition, click one of the sections or a button