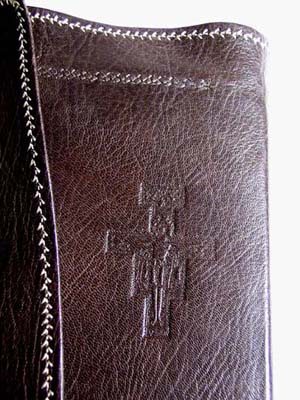 Above:

When closed, the left flap covers the foredge.
Next to the flap is a blind-stamped image of the Cross of San Damiano.
The Liturgy of the Hours
Catholic Book Publishing Co.
New York, 1976
and
Proper Offices of Franciscan Saints
English-Speaking Conference of the Orders of Friars Minor
New York, 1976
Bound by Minsky 2004
17" x 5½" x 2½"
Two volumes in one girdle book sleeve based on several historical models, made for daily use by a Franciscan Friar. Blind stamped on the exterior with images of the Cross of San Damiano, St. Francis, and the Arms of the Order of St. Francis, and on the interior flaps with typographic abbreviations. Interior flaps also incorporate a prayer card and an image of Our Lady of Guadalupe. The books are removable, as each season requires a change of both volumes.

Click on any of the images below for a larger picture

Click on the picture above to see a modified Yapp style binding on a series of books
incorporating the same stamped images as the above girdle book.
---
To continue the exhibition, click one of the sections or a button.
Each section has several thumbnail images and descriptions of the works. You can click on any image for a page about that work, with larger pictures and details.
---